By Marta Rose-Thorpe
This summer I took my sister to Rudy's for a relaxing Saturday afternoon lunch and a little sister-time… and boy did we have a fun feast! The establishment's online description pretty much says it all: "Brisket, ribs & sides served up cafeteria-style in a no-frills setting with indoor picnic tables." Let's start with the meat on the menu. Rudy's features the best brisket this side of the Mason-Dixon line, served sliced by the quarter pound – either regular (which I ordered), "Moist" with fat marbled throughout (my sister ordered)… this is the GOOD STUFF because it's extra tender and juicy, or "Spicy Chop with Sause." Rudy's also serves Pork Loin, Pork Ribs, Baby Back Ribs, Pulled Pork, and Prime Rib on the weekend – all weighed by the quarter pound. Regular and Jalapeno Sausage is available (a half or whole sausage), and white meat options include sliced Turkey and Chicken by the quarter pound. Most of these meats are also available as a sandwich. Potato Lovers: Let us not forget Rudy's Jumbo Smoked Potato with your option of one or two meats on top.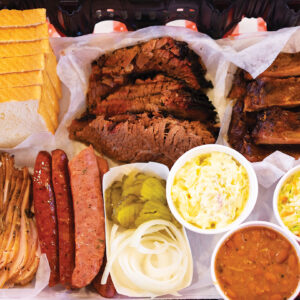 Can we talk about sides for a minute? I love sides and consider this an important and very meaningful part of the meal. (Vegetarians and vegans, please take notice!). You can order any side by Small, Pint or Quart. Three Bean Salad, Coleslaw and Potato Salad are pretty standard. For hot sides, New Potatoes, Cream Corn, Corn on the Cob, and Rudy's Beans are options; the latter is one of my favorites: savory baked beans seasoned with brisket and a faint little kick. But it's the Green Chili Stew that keeps me coming back, and one day I'll learn exactly what's in it. For now, I can tell you that's it's thick and warm, filled with soft potatoes and other veggies including mild green chilis, and has a beautiful flavor, texture, and just a slight amount of heat.
And now the six famous words that frequently follow a meal: Did you save room for dessert? At Rudy's it would be a crime not to. Their six offerings are the perfect way to end a tasty barbeque lunch or dinner: Banana Pudding and Chocolate Pudding, Cobbler, Pecan Pie, Buttermilk Pie, and Rice Krispie bars. I didn't try a dessert that day, but all sure looked good! Rudy's graciously adds the calorie count next to every item on the menu (yes, including the desserts), a blessing or a curse depending on how you look at it – but good information, nevertheless.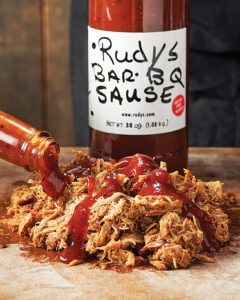 Breakfast is served daily from 7 to 10 a.m. Made-to-order breakfast tacos can include brisket, bacon, sausage, or spicy chop with egg, cheese, potato, and refried beans. So, you choose: one, two, three, four, or more items. Sausage wraps and made-to-order breakfast bowls are also available.
Rudy's Country Store and Bar-B-Q is located at 14501 Panama City Beach Parkway, across the street and down slightly from Harley-Davidson of Panama City Beach. Dine-in, Curbside pickup, and Delivery options are available. Rudy's is open seven days a week, 7 a.m. to 9 p.m., and Friday and Saturday open until 10 p.m. Check out their menu at rudysbbq.com.