By Pam Anderson
Our head-boats are coming in with a lot of great catches of vermilion snapper, triggerfish and more! This time of year you never know if the water temperature will affect fishing, but this year, it has been good! April will bring some warm days, but not hot, which are a lot more comfortable but still bring plenty of opportunities to catch your limit of fish.
Don't forget that sheepshead are abundant around the jetties at St. Andrews State Park this time of year. They make great fish chowder!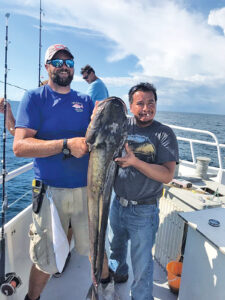 Start watching for Cobia. It is about time for them to make their annual migration from the south.
The charter boats and guide boats are bringing in Spanish Mackerel for their spring run through the area. They are fun to catch and plenty tasty! Be sure to make reservations soon to get your chance to catch one of these seasonal fish. Bake it, grill it or take it to one of the local restaurants for a 'Hook 'n Cook – you catch and they cook. (Max's Bar & Grille will offer this service.)
Max's Bar & Grille (dockside) will be serving fresh sandwiches, snacks and ice cream, as well as offering more seating on the upper deck so you can watch the boats come in all over Grand Lagoon.
Fisherman's Walk with its small souvenir shop, specialty coffee shop, and shaved ice shop offers shaded seating with tables so you can snack and watch the boats unload their catches.
The Event Center is bustling with weddings, seminars, business meetings, retirement parties and the like. What a beautiful waterfront view of Grand Lagoon! Make plans now for your special event.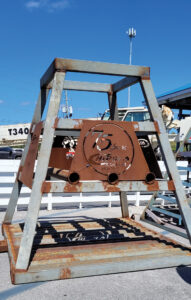 If you haven't heard about the Artificial Reef-building program between Eastern Shipbuilding and local schools, it is quite a project. They are not pretty but they were a good hands-on experience for all the up and coming welders in these schools and will certainly be put to good use. About the beginning of April the reefs, located now at our Fisherman's Walk, will be transported by barge out into the Gulf about 20-30 miles. Come out and see them before they're gone!
Next year Bay County high schools will participate in the same program and we can't wait to see what designs they come up with.
Red Snapper season opens June 1. Boats are filling up – call soon! They always book up early.
The dolphins are certainly happy to see the Shell Island boats this time of year. I think they enjoy watching us as much as we enjoy watching them.
More folks are coming in and enjoying all that beautiful Grand Lagoon has to offer here on Panama City Beach. We welcome you all! You won't find an area of the beaches that has more local family-owned businesses all nestled in one place as you will here in the Grand Lagoon area and all along Thomas Drive.
Come see us!
Capt. Anderson's Marina…Where the fish are always biting and the kids are always smiling.
www.CaptAndersonsMarina.com