By Ed Offley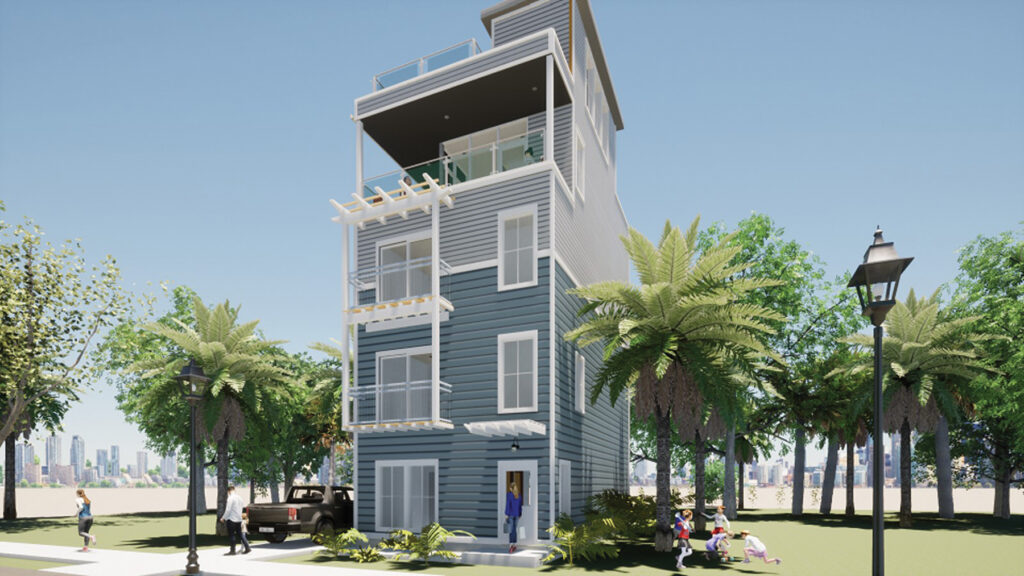 When Wesley DeFoor prepared to develop a new vacation housing project on Front Beach Road last year, he opted to try something radically different.
With nearly a quarter-century of real estate experience in Florida and Georgia, DeFoor could easily have erected a four-story condominium cube on the empty 3/4-acre tract on the north side of the 17000 block of Front Beach Road just east of the Splash Beach Resort. Under its Commercial High-Density zoning, the property could accommodate up to 33 condo units.
Instead, DeFoor told PCB Life, he turned to architect Wade R. Squires and said, "Design me ten single-family dwellings on this [property] that make sense." Currently practicing in his hometown of Mt. Vernon, Iowa, Squires is no stranger to the Florida Panhandle. He spent seven years in Walton County designing resort homes and condominiums in high-end communities including Seaside, Watercolor and Rosemary Beach.
Nine months after the project broke ground last January, the Villas at Laguna Beach development is presenting a stark new silhouette compared with the typical cubic beach houses and condos along the Gulf beachfront.

Each of the ten houses consists of a four-story structure measuring only 25 feet wide and 37 feet deep, but rising forty-five feet up. The ground, second and third floors contain five full bedrooms and baths, with a full kitchen, dining room and living room on the fourth floor. In addition, the flat roof features a 25 by 25-square foot deck with a covered bar and wide-screen TV. A large media room is on the ground floor.
Other features include a dumbwaiter elevator (for lifting luggage and food supplies) in nine of the ten units, with a full elevator in the tenth to accommodate visitors with limited mobility. Each house will have a 10 x 10-foot "plunge pool," plus two parking spaces.
Each house will accommodate up to ten people at a time, DeFoor added.
Panama City Beach planning director Mel Leonard said DeFoor's approach to a relatively small tract is "kind of unique … going as high as they can to make sure they have enough space for parking" required under the zoning law. "They are well below the [maximum allowed] density for that site," he said.
"This is a really unique design," DeFoor agreed. "He [Squires] utilized every square foot."
DeFoor said the homes will be utilized as short-term vacation rentals, with a local property management firm supervising the complex. Rental rates will be commensurate with similar-sized properties in the area, he said.
The Villas at Laguna Beach is scheduled for opening next March.