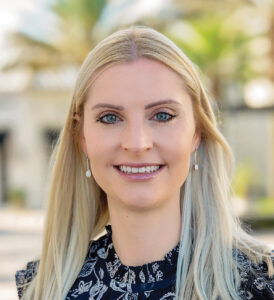 Lauren Stipp, MD, FACC, is a cardiologist with Ascension Medical Group Sacred Heart and is board-certified in cardiovascular disease and cardiac imaging modalities. She started working with Ascension Medical Group Sacred Heart in July.
Dr. Stipp is accepting new patients at Ascension Medical Group Sacred Heart 30A Cardiology at 12805 US-98 G201-C in Inlet Beach. Dr. Stipp is co-located with Michelle Parker, MD, with Ascension Medical Group Sacred Heart at 30A. Dr. Stipp also provides cardiac imaging services at Ascension Sacred Heart Emerald Coast located at 7800 U.S. 98 in Miramar Beach.
"When I decided to go into a cardiac imaging specialty, it allowed me to be able to identify disease," said Dr. Stipp.
Dr. Stipp has a special interest in cardiovascular imaging which enables her to identify heart disease early, implement healthy lifestyle changes, and guide medical treatment. She also uses patient education to help prevent the progression of heart diseases. One of Dr. Stipp's goals is to treat every patient as if they were her own family member.
"I love creating a relationship with people," said Dr. Stipp. "I love a work environment where we are all as a team helping someone."
Dr. Stipp completed a subspecialty in cardiothoracic imaging in nuclear, CT, and cardiac MR at the University of Florida. She completed fellowship training in cardiovascular disease. Dr. Stipp completed her residency in internal medicine. She earned her medical degree from Ross University School of Medicine in Portsmouth, Dominica, West Indies, and graduated with high honors.
"I got into saltwater aquariums when I was in training," said Dr. Stipp. "I love growing coral and looking at the beautiful fish."
Outside of the office, Dr. Stipp enjoys spinning, yoga, skiing, scuba diving, and taking care of her saltwater aquarium. Dr. Stipp is married to Alexandre Sintow, MD, an infectious disease doctor at Ascension Sacred Heart Bay.
To learn more about Dr. Stipp and the advanced heart care Ascension Sacred Heart offers, visit Ascension.org/DestinHeart.
Ascension is a faith-based healthcare organization dedicated to transformation through innovation across the continuum of care. As one of the leading non-profit and Catholic health systems in the U.S., Ascension is committed to delivering compassionate, personalized care to all, with special attention to persons living in poverty and those most vulnerable.