By Jack Smith
Southern cooking has some international roots showing. Fried chicken, rice and gravy, sweet potatoes, collard greens, and spoon bread – all good, old fashioned, down home Southern foods, right? Wrong. The fried chicken and collard greens are African and the rice is from Madagascar. Southern cooking, as it turns out, was born out of survival techniques, like frying and salting meats to keep them edible. We can thank Native Americans for that. So Southern food was not invented by your grandmother. Sorry, Paula Dean.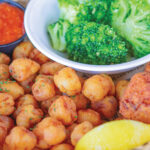 The Wicked Wheel
10025 Hutchison Blvd, PCB | (850) 588-7947
thewickedwheel.com
Fried Bay Scallops: While The Wicked Wheel may be best known for their signature fried chicken, they also offer a variety of delicious seafood dishes, such as their Backfire Shrimp appetizer, Cajun Seafood Mac, or their Fried Bay Scallops – a generous portion of fresh Bay scallops, hand-battered and deep-fried to a crisp golden perfection. Join them for Happy Hour every day from 3-5 p.m.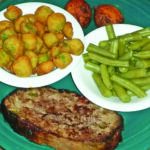 Boon Docks
14854 Bay View Circle, PCB | (850) 230-0005
boondocksfl.com
Located under the mighty oaks on the Intracoastal Waterway just 5 minutes from the beaches in West Bay, Boon Docks offers you a delicious array of local and regional seafood prepared in a variety of ways. We use a special blend of spices that gives our grilled items a taste like no other! Our unique breading recipe gives our fried seafood a special and original flavor. And we're always serving ice cold beer and the best Bloody Marys on the beach!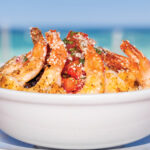 Schooners
5121 Gulf Drive, PCB | (850) 235-3555
schooners.com
Southern cooking is as diverse as those who cook it. The "Drunken Shrimp" Bowl at Schooners combines flavors truly diverse! Seared shrimp drizzled with tequila lime sauce are served over a Southern staple, yellow rice and black beans, then topped with pico de gallo and grated cotija cheese and served with a stunning view of the Gulf!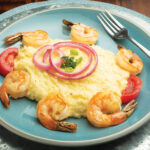 Capt. Anderson's Restaurant
5551 N Lagoon Drive, PCB | (850) 234-2225
captandersons.com
In almost every great memory we Southerners hold close, food was there. Capt. Anderson's Three Cheese Shrimp and Grits is a version of a Southern Classic. Creamy grits with fresh shrimp. Simple and genius.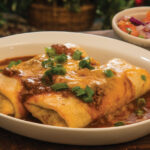 San Marcos Mexican Grill Pier Park
101 Bluefish Drive, Suite 105, PCB | (850) 708-3097
www.sanmarcosmexicangrillpierpark.com
Chimichangas: deep fried flour tortilla filled with chicken or shredded beef, topped with lettuce, sour cream, tomatoes, guacamole, rice and beans. San Marcos Mexican Grill is a family-owned and -operated, Mexican restaurant. The family is committed to serving authentic Mexican and Tex-Mex fare including handmade corn tortillas and homemade, tableside-prepared guacamole!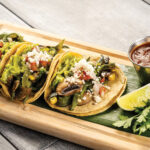 Señor Frogs
15005 Front Beach Road, PCB
senorfrogs.com/panama-city-beach
The party starts where the ocean waves end; Señor Frog's Panama City Beach is located in front of the turquoise and white sand beach. It's the ideal beach destination for unforgettable experiences. With the best entertainment, delicious food and the most famous beach yards in the world.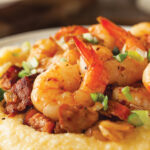 The Grand Marlin
5323 N Lagoon Drive, PCB | (850) 249-1500
www.thegrandmarlin.com/pcb
Fresh Gulf seafood daily! With sunsets overlooking Grand Lagoon, The Grand Marlin of Panama City Beach offers a tranquil, relaxed atmosphere, paired with the area's best selection of fresh seafood highlighted by delectable, daily specials from the kitchen of award-winning Chef Gregg McCarthy.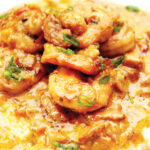 American Charlie
473 Richard Jackson Blvd., PCB | (850) 238-8340
americancharlie.com
You've got to try our Shrimp and Grits: jumbo pan seared shrimp with our own sharp white cheddar cheese grits, surrounded by a roasted tomato and grilled andouille low country sauce.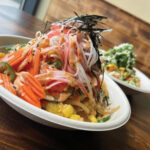 Island Fin Poké Company
15500 PCB Pkwy., Suite 320, PCB | (850) 919-5656
islandfinpoke.com/panama-city-beach
"When I went to verify the brand for myself, I was shocked to find that its service is truly a part of the brand's culture," said the new PCB Island Fin Poke Company's owner Kurt Fadden. "I'm so excited to bring something like this to Bay County. It's nice for people to have a place to go where they can count on a friendly atmosphere, affordable food and a nice environment."