Laughing Penguin Publicity, along with L'il House Songwriting Workshops of Nashville, is hosting a truly unique benefit event for The Joe Center for the Arts on Friday March 3.
A limited number of invited fine artists will create original works of art onsite, inspired by the music of 3 award-winning and Grammy-nominated Nashville singer/songwriters this live concert event. Attendees will watch the creation of art while listening to the music of our special guest songwriters for The Synergy Between Art & Music.
Donna Ulisse, Jerry Salley and Rick Stanley will be in town to present the inaugural Words on the Water Songwriting Workshop and while here will perform at this special event. [Individual songwriter pics available by request.]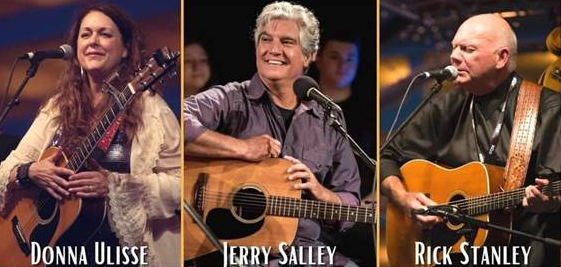 At the end of the evening, a silent auction will allow attendees to own the pieces created before their eyes.
NOTE: All winning bids of $250 or less will benefit The Joe at 100%.
All winning bids of $251 or more will be split between the fine artist, The Joe and our musical presenters at 20% each.
Refreshments will be served. The event is free and open to the public. In addition to the silent auction, donations to The Joe are welcome and appreciated.
Friday, March 3, 7-9:30p.m.
The Joe Center for the Arts
201 Reid Avenue, Port St. Joe