By Anna Fisher, Associate Artistic Director, Emerald Coast Theatre Company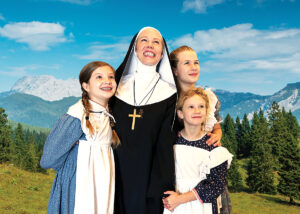 Raise your hand if you've ever come upon an open grassy field and spread your arms out while twirling and singing, "The hills are alive, with the sound of music?" No one? Just me? Okay even if you ignored that impulse, I know you wanted to breathe in the fresh spring air and twirl with abandon as you embodied one of your favorite moments from "Sound of Music." We all have our favorite memories from this beautiful Rodgers and Hammerstein classic stage play and movie. Everyone learned to sing the notes along to "doe, a deer, a female deer" and find our dreams when we "climb every mountain."
I am so excited to bring this beautiful, based-on-true-events story to life this spring at Emerald Coast Theatre Company. We have a cast of extremely talented adult and child actors who are already working hard in rehearsals to bring this gorgeous musical to our stage.
One of the greatest challenges of casting is finding the right actress to play Maria. She has to not only be able to sing like an angel, but to also be angelic in her demeanor. We have to believe that she would come to love a group of children as her own and embrace a life that she did not plan for herself. If you have met Anna Joy Powell, you know that she is the perfect actress to tell this story of love, family and overcoming. She is a pastor's wife and mother of four with the voice of an angel.
You won't want to miss Anna Joy and the rest of this incredible cast as they create all of those beautiful moments we cherish from this beloved classic. This family-friendly show opens May 5th and runs through the 14th. Green flag beach days, the scent of fresh lemons and The Sound of Music at ECTC—these are a few of my favorite things. Visit www.emeraldcoasttheatre.org for more info and tickets.