By Pam Anderson
Our State Guide boat captains are excited to have Red Snapper available to all the folks who missed their 'snapper trip' in the summer or just want to pack away a few more for the winter.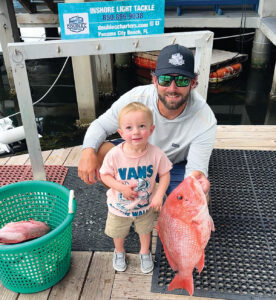 Florida State waters are open for private anglers on their own boats, fishing from piers or on the State-licensed guide boats to catch Red Snapper on Fridays, Saturdays, and Sundays through November. Grand Lagoon has plenty of experienced guides to offer!
The Federally permitted Head-boats and Private Charter Boats are still catching plenty of other species and will be operating through October; some will operate year round. Before long Flounder should be gathering up on inshore reefs and other structures. Check out our website at www.CaptAndersonsMarina.com for all that are available.
Embassy Suites by Hilton on Panama City Beach will host the next Gulf of Mexico Fishery Management Council meeting from Monday, October 23 at 8:30 a.m. until Thursday, October 26 at 4:30 p.m. Some Committee meetings that may be of special interest will be the Data Collection Committee meeting from 10:15-11:30 a.m., Monday, Oct. 23 and the Reef Fish Committee meeting all day Tuesday, Oct. 24. On Wednesday morning there will be a presentation regarding wind energy development in the Gulf. Also, Wednesday afternoon is the public comment period. Each person who signs up to speak is allowed 3 minutes to make comments on the subjects that were discussed in the committees. You can find the full agenda at https://gulfcouncil.org/wp-content/uploads/A-3-Combined-Committee-and-Council_Agenda_Oct2023.pdf.
The Event Center is booking many Christmas parties and weddings these days. Be sure to check out the virtual tour at captainandersonseventcenter.com. The view cannot be beat! This new facility is great for large or small parties and the price is right, too!
In addition to fishing here at Capt. Anderson's Marina we are looking forward to two special community events. The first will be our family's fiftieth Veteran's Day Celebration, which started in 1974 on the Capt. Anderson Dinner Boat, transferred to the Lady Anderson Dining Yacht in 1992, and then to the Marina and our other boats since 2013. We are so grateful for our Veterans and those in the military here in our community for their sacrifices on our behalf and that of their families. We look forward to hosting you here for our Freedom Celebration. Veterans and their families are treated to a free cruise after the dockside festivities – reserve early!
Bethlehem Christmas Village is scheduled December 13 through 16. The parking lot is transformed into a little village with vendors and storytellers sharing the Biblical story of the birth of the Christ Child, complete with a re-enactment of the events leading up to Jesus' birth with the Live Nativity presentation. Each night from 5:30 to 8 p.m. local schools present their Christmas music before and after the presentation. Come take a step back into time with us and listen to this most blessed story!
Information on all the great opportunities in the Grand Lagoon area can be found at www.grandlagoon.com.
When planning your fishing trip, remember Capt. Anderson's Marina… home of 3 large Head-boats, 30 private Charter Boats, 10 Guide Boats and 4 Dive Boats… and Shell Island/Dolphin Cruises. Our main fishing and cruising season here is March 1st through October 31st, but many charter and guide boats offer fishing trips all throughout the winter.
Capt. Anderson's Marina…Where the fish are always biting, and the kids are always smiling. www.CaptAndersonsMarina.com.