How we love the outdoors and the best time of year to be out and about in the Panhandle is here! If you are looking to build an outdoor kitchen or maybe remodel an area outside, we have some local resources to get you headed in the right direction.
SeaBee Constructors, LLC is a locally owned company. They offer a wide range of services including a new build or an outdoor kitchen remodel. Stucco, Brick, Hardy board, and Stone are a couple of options to consider for your new outdoor kitchen, and Heather Greise from Seabee Constructors will help you design an outdoor kitchen that works for your exterior space.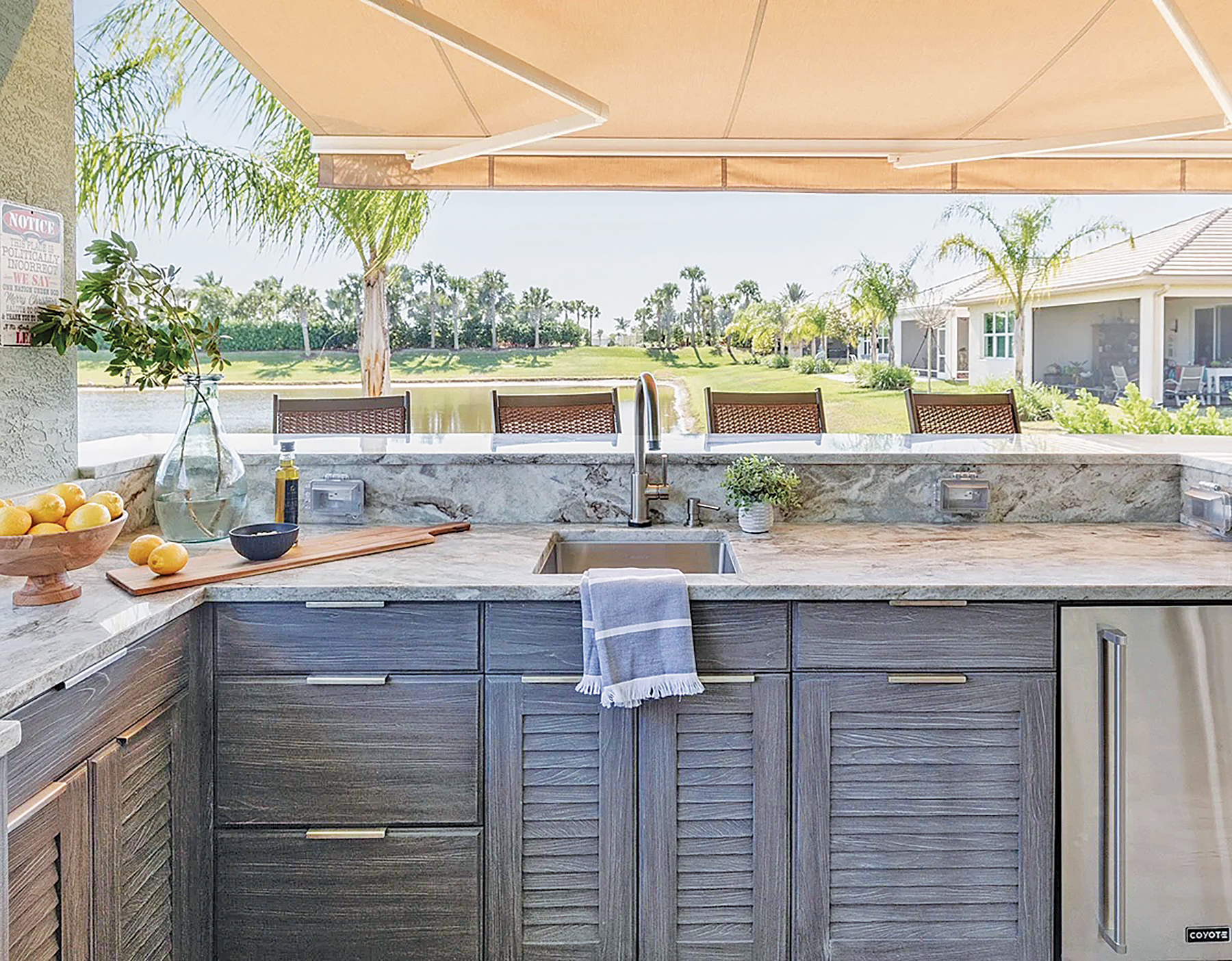 When it comes to outdoor storage in your outdoor kitchen, The top two options are stainless storage or outdoor cabinets. NatureKast is the leader in the industry for outdoor custom cabinetry. It can be customized to the grills and appliances you would like in your outdoor kitchen, custom hoods are available if you need ventilation and it is all weatherproof. NatureKast has a limited lifetime warranty and offers a wide range of finishes with seven door styles: Slab, Shaker, Rustique, Louvre, Contempo, Euro and Metro. If you would like to find out more you can visit NatureKast.com or stop by Granite Plus.
When selecting countertops for your outdoor kitchen there are a wide range of options. Granite and natural stones are the most common materials used in outdoor kitchens for now. Dekton, a manufactured material, is slowly making its way into our outdoor kitchens.
Dekton is scratch-resistant, stain-resistant and heat-resistant. One of the wonderful characteristics of this product is its patterning, influenced by nature. For example, The Onrika Collection from Dekton gives the Calacatta Marble look without the maintenance of Marble. Dekton can also be used for wall cladding in your outdoor kitchen. Last but not least, Caesarstone Quartz is one of the only companies that has a quartz collection that can be used outdoors. It is durable and perfect for an outdoor space. Samples of these products are available at Granite Plus.
Now it's time for barstools to go with that new beautiful outdoor kitchen. Panhandle Patio, located in Panama City is owned by a local family, Austin and Lynsey Beasley. All of their furniture is from Florida, and they have a line of Marine Grade Polymer furniture that comes in a wide range of colors and fabrics. If you would like to find out more, you can stop by their showroom located at 3715 West 23rd Street.