By Ed Offley
A new crop of colorful public art sculptures is now in place at locations throughout Panama City Beach.
City Council last August approved SeeLife 2, the second phase of a public arts program begun in early 2021 that initially placed eleven dolphin and sea turtle sculptures at sites across the city. Joining the artwork pieces from that first phase, city officials on June 21 unveiled ten new sculptures — five dolphins and five seahorses — affixed with topical illustrations and painted in bright colors by volunteer citizen artists.
The $25,000 SeeLife 2 project was financed through a grant from the Panama City Beach Conventions and Visitors Bureau.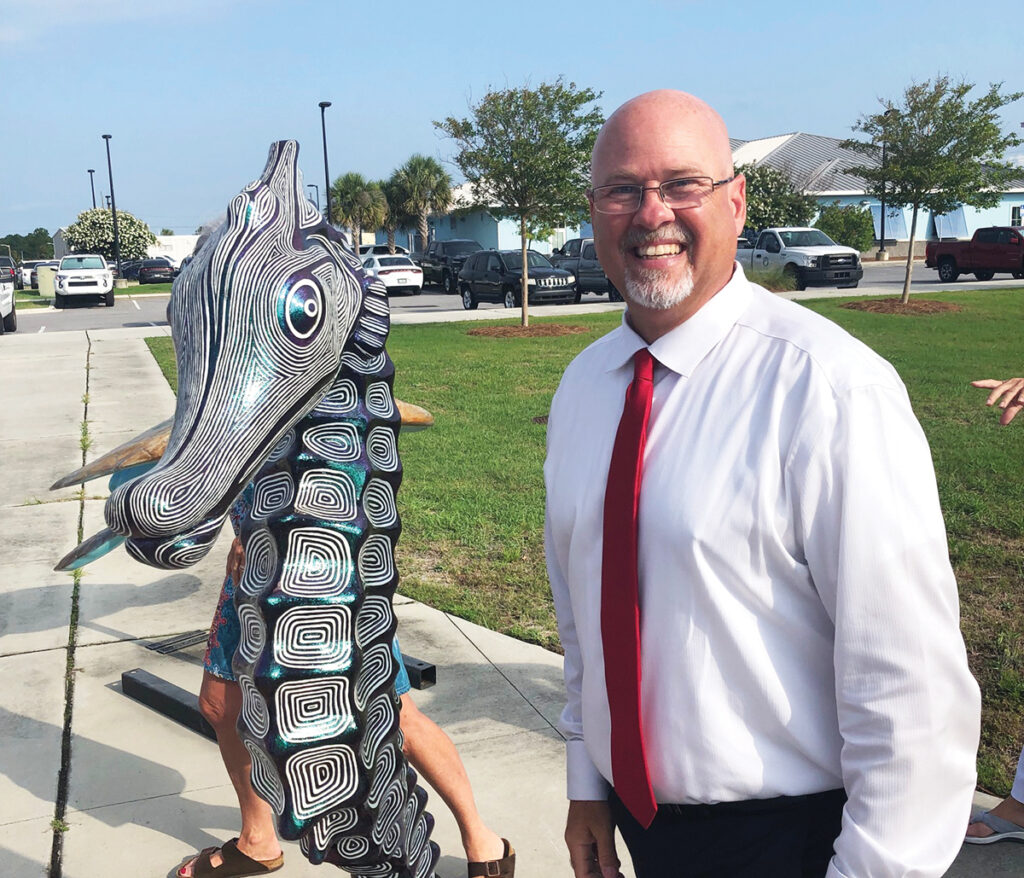 A beaming Mayor Mark Sheldon presided over the public unveiling of the sculptures on June 21 in the plaza at city hall as a crowd of several dozen people joined several city councilmen and senior staffers to applaud the artists' work.
"Art enhances public spaces," Sheldon said. "These sculptures will be adding more value, adding more art to our community."
Beach spokeswoman Debbie Ingram noted that the artists matched the themes of some of the sculptures with the businesses where they are displayed.
For instance, K-3 students at the A. Gary Walsingham Academy illustrated their seahorse sculpture, "The Whimsical Wonder," with images from various STEAM (science, technology, engineering, art and math) icons including an Edison lightbulb, stars, math symbols and art. The seahorse will be on display at WonderWorks at 9910 Front Beach Road, the entertainment center that exposes young people to a wide variety of science and educational experiences, said teacher Julie DeFelice.
In addition to "The Whimsical Wonder," the other SeeLife 2 sculptures can be seen at the following locations: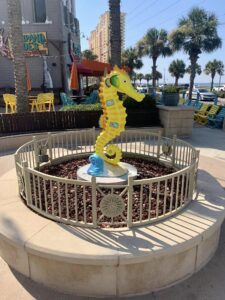 "See Horse," a seahorse sculpture painted by Lee Ann Leonard, is on display at Pier Park on the roundabout on Bluefish Drive near the north side of J.C. Penney;
"For the Love of the Game," a dolphin also created by Ms. DeFelice's students, is on display at Beef O'Brady's sports themed restaurant at 11226 Hutchison Blvd.;
"Majestic Magic," a seahorse painted by artist Jeri Salisbury and friends, is at Majestic Beach Resort, 10901 Front Beach Road;
"Vibransea," a seahorse painted by Ashley Windsor, is at Casa Loma hotel, 13615 Front Beach Road:
"Wild Thang," a seahorse painted by Michelle Jones, is located at PCB City Hall, 17007 Panama City Beach Parkway;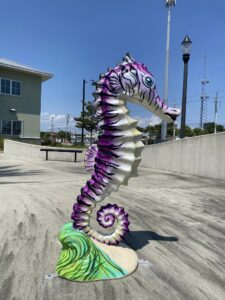 "Horizon of Heaven's Sea," a dolphin painted by Amanda Maxwell and students at the Gulf Coast School for Autism, is at RC Real Estate Group, 10100 Hutchison Blvd.;
"Brighter Days," a dolphin painted by Jeri Salisbury and friends, is at Days Inn, 12818 Front Beach Road:
"Rocky," a dolphin painted by Michelle Jones, is at the Man in the Sea Museum, 17314 Panama City Beach Parkway;
"Sea-renity," a dolphin by Amanda Hunt and students at her Bay High School art class, is at the St. Joe Corporate Office, 130 Richard Jackson Blvd.
Mayor Sheldon told the audience at the sculpture unveiling that the art program is not done. "We want to continue this program," he said.
The city plans to announce it will be accepting applications from citizens for a third round of SeeLife public art later this year, city spokeswoman Ingram said.