Panama City Beach Chamber Introduction
Specializing in pasta and pizza, Teddy's Spaghetti is sure to become a fast favorite with locals and visitors alike. Owners Ted and Julie Nitz are often asked, why did you decide to open a restaurant? "It's simple," they say. "We have delicious food, a great business model and an even better name!"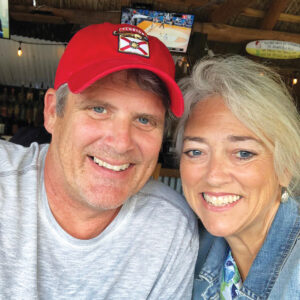 Teddy's Spaghetti was created five years ago as Ted and Julie searched for local options to feed their hungry family. As parents to three children and two grandchildren, they reminisced about their time in the Midwest and were reminded of their favorite take-out pasta restaurants. Why not bring those favorites to the beach? Shortly after, the name was born.
Convinced the idea would go over well with both locals and visitors, they started working on branding and recipes while searching for the right opportunity and location.
In May, that opportunity appeared in the form of Marcus' Gulf Pizza. After meeting Marcus and learning the history of his pizza, they knew it was time to bring Teddy's Spaghetti and Pizza to life.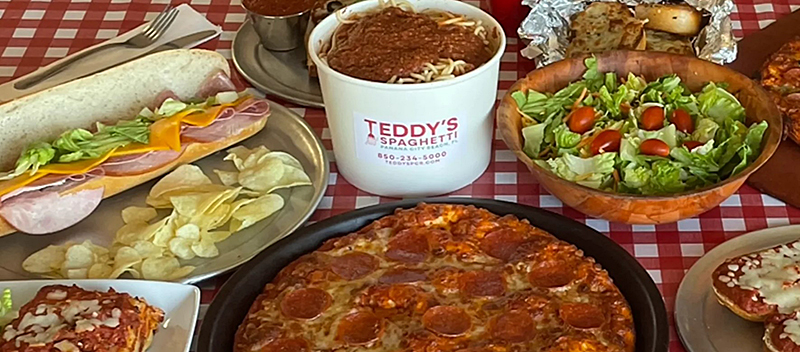 The recipes used to create the house-made pizza dough date back more than 40 years. Mixed fresh each day, the dough is an experience in itself and creates an opportunity for dialogue with customers. Fresh ingredients coupled with decades of tradition and baking time in a stone oven makes for an amazing thin-crust pizza. Just listen for that crunch! Teddy himself can often be seen slicing the perfect pizza as it's prepared for guests.
The pasta sauce is the result of a weekend of research and development, topped off by a tasting event hosted at the Nitz's home. Friends and family taste-tested six different sauces and overwhelmingly chose the one used in the spaghetti and tortellini dishes. The lasagna is a family recipe taught by Julie's mother, while the sammies were carefully selected to please a variety of appetites.
In the near future, Teddy's Spaghetti & Pizza plans to cater their signature buckets of pasta and combos to visiting and local sports teams, engage in community events, and host a pizza-making class for kids. Follow Teddy's Spaghetti's social media accounts to keep up to date on their adventures. Find them on Facebook at Teddy's Spaghetti and on Instagram @teddysspaghetti.pcb (watch for our steamy videos). Find them at 7010 Thomas Drive open 7 days a week from 4 – 9 p.m.
Ted and Julie spend their free time volunteering at Lucky Puppy Rescue in Bonifay, boating on the beautiful gulf waters, and singing karaoke with new and old friends throughout Panama City Beach. As a musician, Teddy always dreamed his name would be in lights, he just never thought it would be on a restaurant sign, as the undisputed King of Pasta in Panama City Beach.