By Anna Fisher, Emerald Coast Theatre Co.
My Dad took me to see Camelot when I was around 12 years old. It was my very first experience seeing a live performance, and I remember walking up the steps at the Fort Walton Beach Civic Auditorium with such excitement that I had butterflies. We had the honor of escorting none other than Mrs. Mattie Kelly herself that day, as she was one of my Dad's clients at his brokerage firm.
Oh, the music, the lights, the voices, the costumes! Guinevere was so beautiful with her long flowing locks and shimmery gowns and I was in awe of the spectacle of everything. My only other experience with a musical was catching a rerun of Grease 2 on TV whenever I got really lucky. But this live performance feeling was different. It had texture and weight; it was fully immersive and glowing, like an intense sunset that washes over everything in its path.
The power of that live performance never left me. I still feel the magic of it every time I watch a new cast thrill our audience with everything they've got. The most rewarding moments of all happen when I get to watch children experience that magic for the first time at ECTC.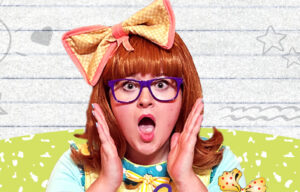 We are bringing Junie B. Jones the Musical to life on stage October 13-22 and I am so excited to have multiple schools attending on field trips, as well as our offerings to the general community. Aside from the boost that live theatre gives students in every area of education, it gives space for kids to imagine and dream, just like I did so many years ago.
We have something inspiring for the adults in October as well. Me and My Gal: A Musical Tribute to Judy and Gene October 26-29 is a joyous walk down memory lane with such songs as "Singin'in the Rain" and "Get Happy." Like putting your toes in the sugar white sand, attending a live performance is one of the best reset buttons we can employ in this technology age. I turn off my phone, take a deep breath, and just feel all of the music, dance and life that is being played out before me.
Whether you're attending Junie B. Jones, Me and My Gal, or any of the multiple productions we offer throughout the year, I hope you get those same butterflies of excitement and anticipation as you walk up the steps to ECTC. Come join us in real life and real time to experience the magic of that reset for yourself.
For more information and tickets, visit www.emeraldcoasttheatre.org.
More Emerald Coast Theatre Company October Events
Coming October 13 and 20 at 7:30 p.m. is An Evening With Bryan Kennedy and Kevin Boyle. Bryan, an author, novelist, actor, poet, playwright, and three-time #1 hit songwriter for Garth Brooks shares his "campfire" with Comedian and improv actor Kevin Boyle for a night of unpredictable songs and 'true stories'! Be prepared to laugh, sing along, and be entertained as they invite you to sit around the campfire with them. Tickets range from $27 – $40 and can be purchased at emeraldcoasttheatre.org.
The always popular Comedy On the Boulevard is coming on October 14 at 7.30 p.m. Come for an uproarious night of laughs! ECTC presents some of the Southeast's most hilarious comedians hosted by resident funny guy Jason Hedden. Tickets range from $27 – $40 and can be purchased at emeraldcoasttheatre.org.
Vien Phommachanh (feature):
The #1 Ranked, Laotian, Ear, Nose, & Throat Doctor/Comedian in Southwest, Florida (probably)
Yes, he is a real-life doctor. Seriously. Dr. Phommachanh is a practicing ear, nose, and throat doctor in Sarasota, FL. During the daytime, Dr. Phommachanh is really helpful if you have an ear infection, runny nose, or sore throat. Call for an appointment. Medical advice given after shows will be for his amusement only. He is based in Florida, but Vien has performed standup all over the United States and overseas.
Tara Brown (headliner):
Tara Brown performs clean and family-friendly comedy across the country. The nationally touring headlining comedians she has shared stages with have included Theo Von, Ilana Glazer, Cristela Alonzo, Josh Wolf, Jon Reep, Jeff Allen, Ryan Hamilton, Preacher Lawson, Janelle James, Karen Mills, John Crist, Jimmie "JJ Walker, and the late John Witherspoon. She has been featured in Newsweek, the New York Post, the Charlotte Observer, the Lancaster News, Carolina Gateway, the Charlotte Post, WBTV-TV, WJZY-TV, WBT Radio, WFAE.com, and CLTure.org. Tara Brown is a native of Brooklyn, New York, and now resides in Nashville, Tennessee.
Jason Hedden (host):
Jason Hedden took to stand-up comedy when his wife stopped laughing at his jokes at home. He lives in Panama City, Florida where he produces monthly shows with Panama City Comedy. He has been seen at StarDome, The Comedy Catch, Stand Up Live, Comedy Bar, Laughing Skull Lounge, Dothan Opera House, and dozens of other venues throughout the southeast. Jason has performed at the Pensacola Indie Fringe and Comedy Festival, West End Comedy Festival, Gulf Coast Comedy Festival, and P3 Comedy Fest. He is a frequent opener for Grand Ole Opry member, Henry Cho. Follow him at @jasonheddencomedy or jasonhedden.com
The final October event is coming to the stage four nights – Me and My Gal – A live Judy Garland and Gene Kelly Musical Tribute October 26-29 (various times). Tickets range from $30 – $50 and can be purchased at emeraldcoasttheatre.org.
"That's Entertainment!" The bells are ringing for this night of "Ritz," glitz, glamour, and the beautiful music of Judy Garland and Gene Kelly. Judy and Gene were giants of the silver screen whose songs still make you feel like "Singin' in the Rain," and take you "Somewhere over the Rainbow." "Get Happy" as the stars of ECTC sing the songs "I Got Rhythm," "The Trolley Song," "Good Morning," "Be a Clown," and many more classics you know and love.
All special events will be staged at ECTC, located on the second floor of 560 Grand Boulevard in Grand Boulevard Town Center in Miramar Beach. Purchase tickets online at www.emeraldcoasttheatre.org. There is an additional processing fee for ticket purchases. You can now choose your seats when you purchase your tickets.