By Kim Brazell, Marketing Director, Flooring Depot of Panama City
You may have heard the term decorative concrete, but is it as simple as it sounds? The answer to that is yes and no. Today's concrete is anything but boring, and more and more homeowners and business owners are discovering the beauty and advantages to decorative concrete so it's no wonder that Flooring Depot has added it to its product line.
To get a better understanding of exactly what decorative concrete is, I sat down with Rob Morrisseau, residential and commercial installation manager at Flooring Depot, to better understand what it is and how it can be used in residential and commercial spaces, and what as a consumer you need to know if you are considering this type of flooring.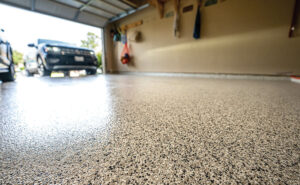 Kim: Thank you for taking a few minutes to answer my questions, Rob. Let's start with an easy one. What is decorative concrete?
Rob: You're welcome. That question has many answers depending on which type of concrete we are discussing so we can break it down so that readers will better understand exactly what we are talking about. Basically, when you think of concrete, people primarily think of gray, cold, and boring. But it doesn't have to be those things anymore. It can be a beautiful element added to your home or business. You can choose various options, such as polished concrete where you can use a clear coat or add color to create a bigger decorative element. You can use resin chip, metallic epoxy, or stamped concrete, there are literally all kinds of uses and decorative options that homeowners and business owners can use to personalize their spaces and for different functions in their homes.
Kim: When you say polished concrete what do you mean?
Rob: Polished concrete is what people usually associate with a high gloss look on a concrete floor. They may not realize that colors can be added to that to add a decorative element. For instance, you could add a blue tint to lighten up a room or do the opposite and add a darker color to warm it up. The possibilities are limitless.
Kim: I have heard you mention metallic epoxy flooring as well and I have seen the samples in our building. What is that specifically?
Rob: Metallic epoxy uses metallic additives mixed with clear epoxy coating. You can mix different colors, or you can use a single color to create different visual effects on your floors. They can look very dramatic because the metallic powder can move through the epoxy to create a variety of designs that have movement in them.
Kim: Why are more people choosing metallic epoxy flooring?
Rob: There are many benefits to a metallic epoxy floor. They are beautiful, creative, and colorful. You basically design your own and use the colors of your choice. No two are the same so it gives homeowners a one-of-a-kind element to their homes that their friends and family don't have. The floors tend to be a centerpiece of conversation. In addition to their beauty, they are very durable and are great in high-traffic areas. They are also moisture-resistant, hold up under high impact, and resist abrasions and stains. They are a great investment in your home or commercial space.
Kim: In addition to metallic epoxy flooring what other types of decorative concrete does Flooring Depot do?
Rob: There are so many applications. Resin chip flooring is also very popular. You typically see this in a lot of garages and mancaves. We use high-quality resin, vinyl flakes with epoxy, and a polyaspartic coating to create a long, lasting, and durable floor. It holds up to vehicle traffic and high-traffic areas as well. The polyaspartic element helps create a floor that is eight times stronger than any kit that you might buy from a big box store. The vinyl flakes also help give it traction, so the surface of the floor is not slippery. The resin chips also come in multiple colors so you can customize the look you want.
Kim: Where else can you use decorative concrete in your home or business?
Rob: For homeowners, we see this a lot, especially here in Florida, but it's great for driveways, pool decks, and patios. It dresses up your outdoor space and gives you a high-end look for a fraction of the cost of using pavers or other materials.
To learn more about Flooring Depot's decorative concrete options, please visit our store or contact us at (850) 785-2216.