The 3rd Annual Florida Luxe Arts Festival (FLLUXE) returns to Historic Downtown Panama City on March 3-4.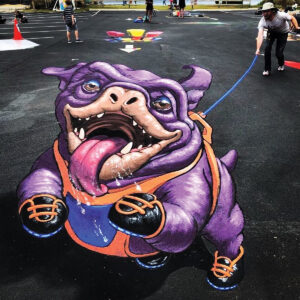 FLLUXE is a two-day event: Friday, March 3 from 4-8 p.m. and Saturday, March 4 from 10 a.m.-10 p.m. The festival will feature national and local artists, live music and performers to create its biggest celebration of creativity yet.
"FLLUXE continues to grow as more artists and musicians join in on this fun event," said Jayson Kretzer, Executive Director of Bay Arts Alliance. "We are humbled by the continued support of our community–without that support, putting together a festival of this magnitude and keeping it free to the public, just simply would not be possible."
The festivities will take place outside of the Panama City Center for the Arts and in the parking lot of the State Attorney's Office on the east side of the Center.
"I am so excited for FLLUXE this year!" beamed Tori Haudenschild, Education and Events Manager for Bay Arts Alliance. "We have added a few unique elements to include a community chalk workshop, fun colorful installations and a nighttime portion of the festival that I cannot wait to share with the community."
National chalk artists–Naomi Haverland, Chris Carlson, Tracy Lee Stum, and more–will bring their talents from across the United States to the streets of Historic Downtown Panama City to create 3-D interactive pieces for the public to enjoy.
"I love to watch the artists design, create, and install their chalk art in a matter of a few days, which is crazy impressive!" said Tori. "In addition, we have a few surprises planned for our evening event that you won't want to miss."
Visitors can watch the artists while they work, enjoy performances by local musicians, explore the Panama City Farmer's Market at McKenzie Park, and see the newest exhibitions at the Center for the Arts.
More information about the festival can be found on www.flluxeartsfestival.com. The website will be updated as more details are available.