PCB Chamber Introduces: Santa Rosa Beach Aerial Arts
Home of Local Cirque Show "Cirque Under the Stars"
Who We Are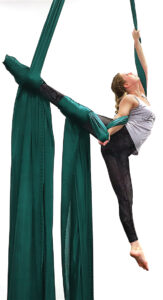 "We make fitness fun" – We are an adult-focused aerial fitness and performance arts studio, offering a variety of unique and fun fitness classes. Whether you are looking for a fitness/lifestyle-focused journey, or a performance-based goal, we are here to assist you on your new adventure!
Class Offerings – We offer a variety of different styles of classes for new and experienced students. Adult classes include aerial arts, pole fitness, flexibility/contortion and Kangoo jump cardio classes. Additionally, we also offer a very limited space kids' program for aspiring young aerialists.
Our studio offers classes suitable for all ages, sizes, and fitness levels. No experience is needed to join our beginner classes. Join our group classes, book private one-on-one sessions, or try our popular private party option. We offer drop-in, monthly, and class card memberships.
​Studio Mission
What makes us different? – We want to grow the local performance arts and circus community! We provide challenging, fun, and rewarding classes in a supportive, non-competitive, creative environment. We are the only studio to offer small studio performances and large stage opportunities to performance artists and aspiring performers in the area. We hope to inspire new and experienced performers to join our family of creative talent. We bring a unique and original cirque show to the panhandle, offering the highest level of instruction in Northwest Florida. Learn more at srbaerialarts.com.
Come see our upcoming local production, at Aaron Bessant Park to learn more about us!
Cirque Under the Stars presents "Masters of Mayhem" February 25th
This is a Santa Rosa Beach Aerial Arts production with the theme "Masters of Mayhem" based on Villains, Vigilantes and Vengeance.
Cirque Under the Stars is the biggest LOCAL Cirque collaboration in the Panhandle. Join us for our third annual show! This is an exciting and thrilling, outdoor, festival-style cirque show! We are exclusive to the Panhandle, created and organized by Santa Rosa Beach Aerial Arts owner, Peppi Barnett (instructor and performer of 10+ years). This family-friendly show features amazing local aerial, circus, and fire performers. Our show features local performers of all levels. We also feature unique guest acts from local businesses, as well as and professional fire and aerial performers from throughout Northwest Fl.
Showtimes
One Night only, two showtimes:
5:30 p.m. – Early Bird show.
8:00 p.m. – Late Night show.
Gates open 30 minutes prior to showtime. To purchase tickets visit srbaerialarts.com/events.
There will be several food trucks along with refreshments and pre-show entertainment. Bring your own chair or blanket/ ground coverage. Tickets do not include chairs. This is an all-weather, rain/shine event; All ticket sales are final. Please dress accordingly, the show is one hour long.
Preferred viewing is available. Visit cirqueunderthestars.com for more information. Follow us to stay up to date on all studio events and updates! @srbaerialarts @cirqueunderthestars.