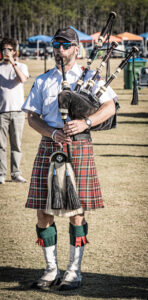 On Saturday, March 4, 2023, don your kilts and celebrate the return of the Panama City Beach Scottish Festival and Highland Games taking place at Frank Brown Park. This family-friendly event will be held outside from 9 a.m. to 5 p.m.
At 11 a.m. the festival kicks off with the Bonnie Knees Contest Welcome Ceremony with Parade of Tartans. This year, enjoy music from band North of Argyll as well as several Scottish Pipe & Drum Bands from the Panhandle. The Highland Athletics will feature Taber Tossing, Sheaf Tossing, and the Heavy Hammer throw, among other events. Come and see these athletes up close and personal.
Numerous Scottish Clans will be on hand so you can learn about Celtic heritage and find out if you have any Scottish blood running through your veins. See Celtic dancers perform typical dances from Scotland, Ireland, and other regions in the British Isles. The British Car Club will feature beautiful vehicles from Great Britain.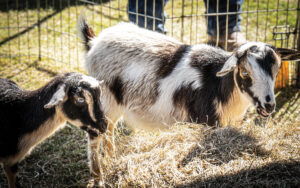 Check out the Falconry and the Redemptive Love Farm, offering interactive animal fun for the children with their Highland "Coos" (cows)! After walking and enjoying the event, you can relax in the Scottish Tea Room and enjoy a warm cup of tea and a scone while listening to traditional Scottish music. Of course, no festival is complete without refreshments: a pub and dining tent, whisky tastings, and authentic Scottish food and merchandise vendors.
Get your tickets early and come and enjoy a day of fun! There will be a Celtic Kids Camp where the little ones can play and enjoy the event also. Buy your tickets online at pcbscottishfestival.com. Looking forward to seeing you there!