By Pam Anderson
Summer fishing is off to a good start with some really nice Red Snapper coming in, as well as plenty of other species (like King Mackerel) on the charter boats. Headboats always focus on bottom fishing for several types of reef fish; charter boats reef fish but also go after other species. Always a fun experience.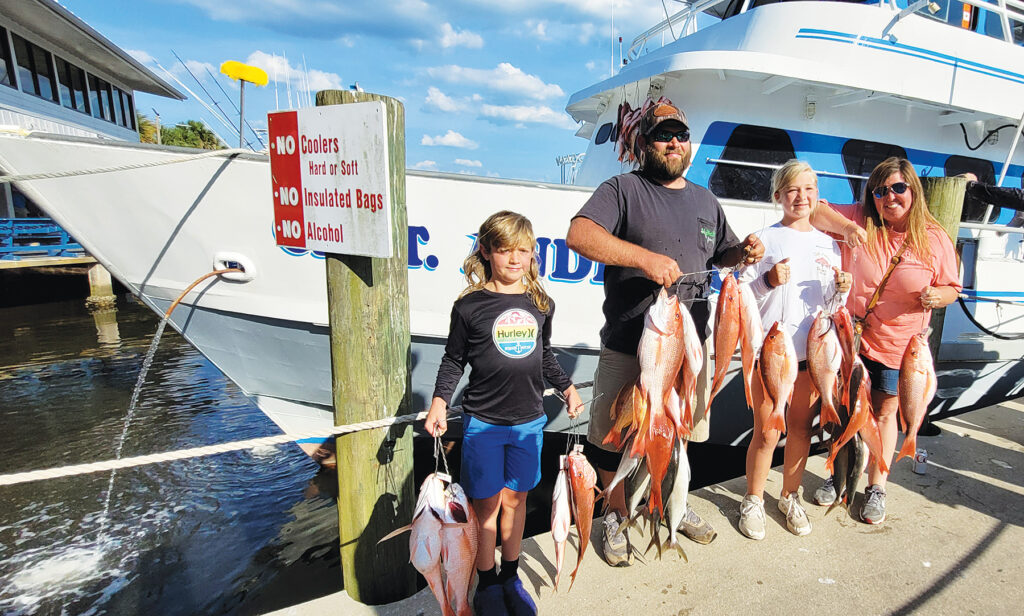 Headboats on Grand Lagoon are headed out daily offering 5, 6, 10, and 12 hr. day trips, as well as the 8 hr. night trip. Be sure to make reservations early to get the trip of your choice. Charter boats can adapt their schedules to yours and offer 6- 12 hr trips as well as some 2-day trips. Our State-licensed Guide boats are out catching their limits of snapper too, these days.
As a reminder, federally permitted headboats and charter boats will have their Red Snapper season from June 1 through August 24 at midnight. Red Grouper closes July 20 and Gag Grouper opens September 1 through November 9.
Private anglers with their own boats are regulated by the FWC, and their Red Snapper season is June 16 through July 31 as well as 3-day weekends in October and November. Why the difference? Private anglers, many are local, fish vacations, when school is out or on weekends. This schedule was preferred over the longer consecutive-day season with no openings in the fall, according to comments made to the FWC by private anglers.
NOAA is mixing it up this year and keeping everyone on their toes. If you want more info, the FISH RULES app is easy to read and seems to keep up with the changes. FWC and NOAA have all the info on their websites, of course, but the app is easier… even for a non-techie like me.
If you are planning an outing on your personal or rented small boat, be sure to refresh your safety skills before you are in a position where you need them. USCG and FWC offer great info. Radios, life jackets, flares, and even a compass can be of great help if you go offshore. (Electronics are great until your battery is dead or a rogue wave splashes all of it).
There are all sorts of fun family experiences awaiting locals and tourists alike in Grand Lagoon. We have water sports galore, from fishing to cruising. But we also have a variety of locally owned restaurants serving some mighty fine seafood, burgers, and steaks (and, of course, chicken strips and mac n cheese for the kids). Along the Lagoon are several opportunities for enjoying some great local talents providing music for the whole family.
Capt. Max's Bar & Grill has live music at the Top Deck bar, overlooking Grand Lagoon. Folks watch from their second deck perch as the boats come in and out with their catch of the day. There's a kids' play area out in front with Dip N Dots and Frozen Daquiri Booths. Come watch the boats come in every day between 12 N and 8 p.m. and grab a snack or dinner!
Capt. Anderson Marina's Event Center continues to be a great place for parties great and small, whether weddings, business meetings, or church conferences. It's beautiful and you can't beat the view!
Capt. Anderson's Marina…Where the fish are always biting and the kids are always smiling!
Visit www.CaptAndersonsMarina.com.