By Ed Offley
Bay County law enforcement agencies have joined forces to prevent a repeat of the widespread chaos that engulfed Panama City Beach during Spring Break last year.
"We don't have a crystal ball, but we can prepare for what might happen," Panama City Beach Police Chief J.R. Talamantez told reporters this week. "We are not going to tolerate criminal behavior on the beach or anywhere else."
During two chaotic days late last March, thousands of people descended on Panama City Beach after a social media campaign called for a "Panamaniac" invasion of the city. Police and sheriff's deputies responded to scores of criminal incidents including disorderly conduct, mass looting, drug dealing and violence. More than 160 invaders were arrested, and police seized over 100 illegal weapons.
Joining Talamantez at a press conference on Wednesday, Bay County Sheriff Tommy Ford, Panama City Police Chief Mark Smith and PCB Fire Rescue Chief Ray Morgan itemized a series of advance steps taken to prevent a recurrence of unrest when Spring Break 2023 runs during March 10-April 10, with particular concern for the five-day period spanning March 23-27. They include:
The three law enforcement agencies, along with the Florida State Patrol, are closely coordinating their planning and response capabilities for that period. "We've become like one giant [police] department, said Panama City Police Chief Smith.
In what Sheriff Ford called "intelligence-led policing models" the agencies are aggressively monitoring social media platforms to detect any signs of any "flash mob" organizing effort that targets Panama City Beach. It was such an online campaign that attracted thousands of street toughs from Alabama and Georgia to the area in 2022. Several online postings have already been detected calling for people to throng the beach in March.
New technologies, including the county's Real-time Operations Center (BayROC), with expanded use of aerial drones and civilian video feeds, will give authorities the ability to rapidly identify and respond to emerging problem areas;
Ordinances prohibiting alcohol consumption sales after 2 a.m., traffic disruption, excessive noise, unlawful gatherings and rowdy beach scenes that are already on the books will be enforced with "zero tolerance" during Spring Break. The city also has the authority to close specific sections of the Gulf beachfront to prevent unruly crowds forming. One new state law authorizes police to impound vehicles if the operator commits an unlawful act.
While some of the organizers of the 2022 incident have been arrested and charged, Talamantez and his colleagues went a step farther this week, releasing a roster of 24 Alabama and Georgia men who still have outstanding arrest warrants from 2022. They have distributed the list – which includes photographs, names, addresses and criminal charges – to area hotels, condos and vacation rental managers.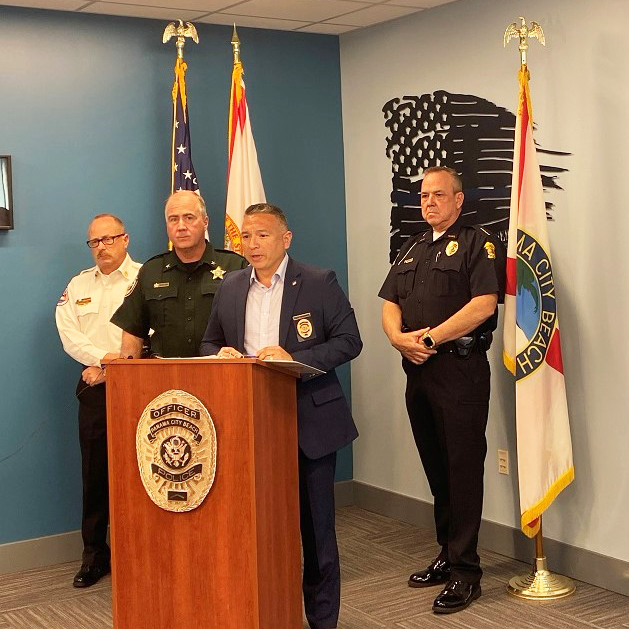 Talamantez told any would-be troublemakers, "If you want to run the gauntlet … you can try to take that risk. But you won't be checking in to a hotel, you'll be checking into the jail."
"We need the community's help," Talamantez said. He urged rental property managers and other business owners to be vigilant and to notify police if they observe any suspicious activity. "If you see something, say something."