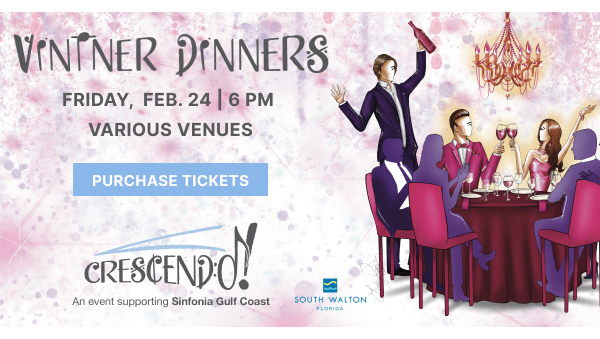 By Ed Offley
In a business career spanning more than twenty-five years, Lee Ann Leonard has been deeply involved in the tourism and hospitality industry promoting the beauty and attractions of Panama City Beach.
But this month, Leonard is making a more personal contribution to the city. She is one of seven local artists and three school groups chosen by the city to paint ten sea-life sculptures that will be placed on public display later this spring.
"I was drawn to this project because I'd love Panama City Beach to be celebrated for its art and culture as much as the sparkling shores that inspire it," said Leonard, whose day job is director of marketing and business development at Pier Park. While her career has focused on the business of attracting visitors and new businesses to the area, Leonard said her love of art dates back to her college days at Auburn University and her inspiration from local artists she and her husband, Mel, have befriended.
City Council last August approved SeeLife 2, which continues a public arts program started in 2021 that placed eleven dolphins and sea turtles throughout the city. This second phase, funded by the Panama City Beach Convention & Visitors Bureau, will include five seahorses and five dolphins custom painted by the participants.
Leonard said that she has finished the first phase of her work on "See Horse," her five-foot-tall composite statue, sanding and cleaning and adding the base coast. The main task will be coloring each of several dozen areas on the seahorse with pastel acrylic paint in a range of beige to yellow and green highlights. While Leonard freely admits that she has never undertaken an art project of this scale, she can draw on support from two of her sisters, an art teacher and graphic artist, respectively.
Students at the A. Gary Walsingham Academy on Panama City Beach will have the chance to finish two of the sculptures, said Julie DeFelice, the STEAM (science, technology, engineering, art, and math) teacher at the school. "My passion in education is to creatively design engaging learning experiences" for her K-3 classes, DeFelice told PCB Life. "When I found out about the SeeLife 2 project, I thought it was a wonderful opportunity" for her students, she said.
They have named their dolphin sculpture "For the Love of the Game," and will decorate it to appear as a sports referee with images of different sports gear all over its body, DeFelice said. The seahorse sculpture has been named "The Whimsical Wonder," and will be painted with a galaxy background and contain images from various STEAM projects such as an Edison lightbulb, stars, math symbols and art supplies, she said.
"SeeLife is a unique opportunity for our community to participate in the creation of a project that benefits locals and tourists alike," said Public Art Committee Chairperson Helen Ferrell, who led the first SeeLife project and is founder of The Sunshine Art Center. "It is our opportunity to continue building public artworks for our community to enjoy and take pride in. There has been great enthusiasm from all our artists!"
"The chance to pay that forward, to create rather than just consume, will be worth every brush stroke," Leonard said. "Getting to leave my little mark on the hometown I adore is a bonus!"
DeFelice agreed. "I believe my life-long experiences will help guide me and my students to create something beautiful to give back to our community that has already given so much to us."
The completed artworks will be publicly revealed in early spring. Leonard's "See Horse" will be installed in the Bluefish Drive roundabout near J.C. Penney at Pier Park. The Walsingham Academy dolphin will be mounted at Beef O'Brady's Restaurant on Middle Beach Road, and the seahorse will be located at WonderWorks on Front Beach Road.
The other artists, their proposed creations and locations are:
• Seahorse "Majestic Magic" by Jeri Saulsbury and friends, to be placed at Majestic Beach Resorts;
• Seahorse "Vibransea" by Ashley Windsor, to be placed at Casa Loma;
• Seahorse "Wild Thang" by Michelle Jones, to be placed at City Hall;
• Dolphin "Horizon of Heaven's Sea" by Amanda Maxwell and the Gulf Coast School for Autism, to be placed at RC Real Estate Group;
• Dolphin "Brighter Days" by Jeri Saulsbury and friends, to be placed at Days Inn;
• Dolphin "Rocky" by Michelle Jones, to be placed at Man in the Sea Museum;
• Dolphin "Sea-renity" by Amanda Hunt and the Bay High School Art Class, to be placed at The St. Joe Company corporate offices.