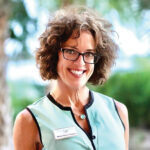 By Marta Rose-Thorpe
What a brilliant and delicious meal we had the night we visited Jaa's Kitchen. I took my family of four – with husband and two teenage sons – to this authentic Jamaican American eatery, nestled in a shopping plaza on the beach, and we were in for a treat. Bright Jamaican tunes filled the air, we settled in with Red Stripe beers, and the evening began!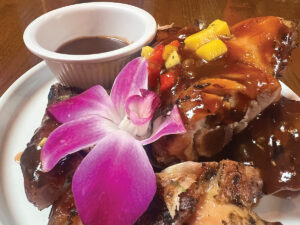 Our server, Cedia, was the perfect hostess for four very different American palettes – all unfamiliar with Jamaican cuisine. She patiently went through the whole menu, explaining the favorites, the specialties, and some of the more unique offerings (like goat and oxtail). Chef Jaa (pronounced "Jay") came out to greet us and checked back with us several times throughout the meal.
We learned a lot about the culinary offerings of this Caribbean island. Cassava is a yam-like vegetable in the tuber family. Breadfruit grows on trees, and Festivals are small torpedoes of crispy sweet dough, fried golden brown with a warm, soft center. Chef Jaa started us out with a taste of the Nine Night* Curried Goat, a favorite Jamaican dish. Curry is an intricate part of the Jamaica culture, history, and cuisine, and this savory, thick stew with veggies packed some heat! For appetizers we ordered Jaa's Tostones and Roasted Jerk Corn. The latter was a sweet treat, more dessert-like than an appetizer, I thought… sweet golden corn on the cob drizzled in house made jerk mayo and topped with shredded coconut. Chef Jaa brought out samples of two more dishes: Jaa's Saltfish fritters with his signature Rahtid sauce, Fried Sweet Ripe Plantains that had a lovely subtle tartness, and Braised Oxtail. At this point we were getting pretty full… but wait! – more was to come.
Jimy tried the Curried Chicken and the Jerk Chicken – both dark meat on the bone. The Jerk had a smoky flavor; the Curry was a savory stew. Cruz ordered the Jerk Pork – small pieces of savory meat with red, yellow and green peppers served over white rice. Leo tried the Jerk Chicken which he said had a "zing" and Festivals (his description: "Crispy logs housing a subtle, sweet and fluffy, cloud-like interior"). I had the Pineapple Jerk Salmon and was magnificently happy with my choice! A beautiful thick piece of salmon was topped with peppers, onions, and pineapple pieces in a thick, sweet, peppery sauce. Everyone received a side of Coconut Red Beans & Rice.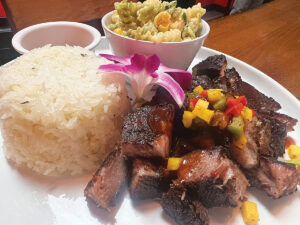 Jaa's Kitchen also serves whole snapper, burgers, fish tacos and shrimp tacos, fish & chips, jerk wings, fried calamari, "Jaa's Penne Rasta Pasta" with chicken or pork, and a very interesting-sounding dish that I'll have to try next time: Kingston Jerk Fries… crispy fries with jerk chicken or jerk pork, topped with melted cheese and green onions.
Jaa's Kitchen serves an array of tropical specialty cocktails, beers, and wine. They are open every day from 7:30 a.m. to 10 p.m. and are located at 9956 Hutchison Blvd., Panama City Beach. For more information visit jaas-kitchen.business.site, call (850) 775-4493, and follow them on Instagram @jaaskitchenpcb.
*Nine Night is a separate event to the funeral itself. It's like the Irish wake and takes place nine days after the death of the person. You have a celebration of their life at the point at which their spirit traditionally leaves the body. It's a Jamaican practice with roots in an African tradition.