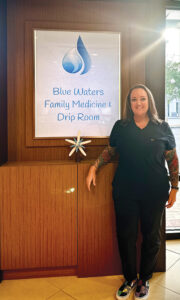 Blue Waters Family Medicine & Drip Room is Panama City Beach's newest primary care office and IV hydration lounge! Rachael Smith, owner and nurse practitioner, is excited to provide medical care and hydration services to the community and its visitors. She is located in The Village of Grand Panama at 11525 Hutchison Blvd, Ste 100.
Rachael was born and raised in Panama City Beach – a third-generation business owner here – and grew up in her family's motel business on the beach. She and her husband, Steve, are a blended family with four children, and she stresses the importance of keeping the family feel in her practice.
An avid SCUBA diver and underwater photographer, Rachael likes to share this undersea world with everyone. Her work can be found throughout the office, giving off a beachy vibe.
Rachael is a board-certified family nurse practitioner. She started her healthcare career over 20 years ago as an EMT, then pursued her interest in nursing. She graduated with her master's degree in Nursing from Chamberlain University, College of Nursing. Throughout her career, Rachael has worked primarily in acute care and family practice settings, giving her a diverse background.
At Blue Waters Family Medicine & Drip Room, Rachael delivers family-focused care, offering a long list of healthcare services that revolve around the family unit. Her focus ranges from health promotion and disease prevention to direct care and counseling for all age groups.
Blue Waters Family Medicine & Drip Room also offers an IV hydration lounge! Rachael has an IV cocktail for everyone! Clients can choose from a menu of options for anti-aging, energy, immune boosting, and, of course, "The Hangover." Hydrate your health with IV nutrient therapy in a calming, friendly environment!
Blue Waters Family Medicine & Drip Room is always accepting new patients. You do not have to be an established patient for IV therapy. Call (850) 588-7595 for an appointment or for more information.