By Pam Anderson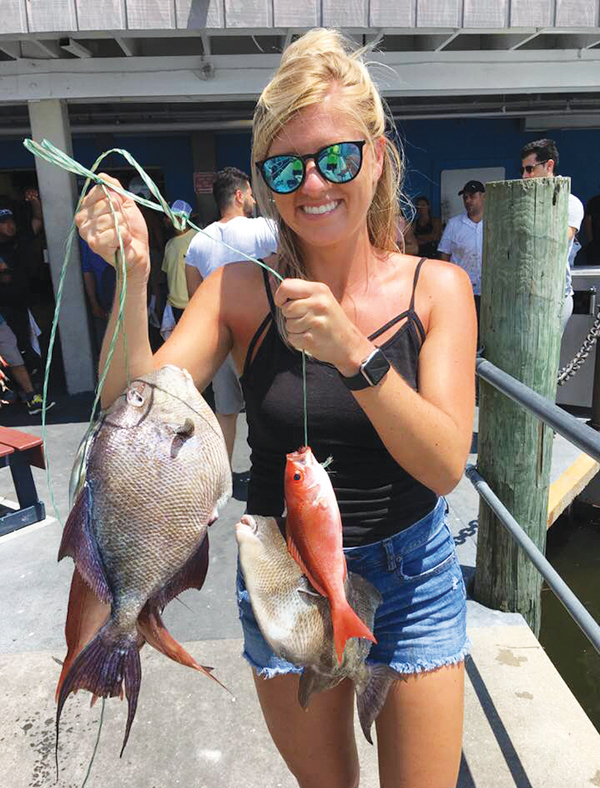 March 1, as most locals know, is the start of the fishing season for Federally-permitted head-boats and Charter Boats. We've all had our USCG inspections, new coats of paint, and are ready to go fishing. Grand Lagoon watersports are on! Triggerfish season opens March 1 for some really fun and challenging fishing. They are very tasty too!
This year we are happy to showcase the artificial reefs built by the local welding students from Chipola College, Haney Technical College, and Wakulla, Port St. Joe, and Wewa High Schools. With the assistance of Eastern Shipbuilding Group, they have put their knowledge of welding to work in a very practical way by helping to provide more habitat for the fishery off NW Florida. In mid-March, the reefs will be on display at Capt. Anderson's Marina for all to view. Watch for the announcements of dates to come to see the results of their ingenuity.
These particular reefs are being deployed through the Bay County Artificial Reef Association's work with Bay County Commission's reef program. There are plans in the works for Bay County High Schools to work with Eastern Shipbuilding next year to provide this experience for students and add more reefs.
These reefs will be placed about 20-30 miles out from The Pass and their locations will be available to the public for all divers and anglers to use. It usually takes about 4-8 months for algae and other plant growth to begin attracting different species of fish. Artificial reefs across the Gulf have been instrumental in providing habitat essential to maintaining a vibrant healthy fishery. Research from several universities across the Gulf reported that about 75% of the Red Snapper lived on artificial reefs.
Over time hurricanes and the oil spill in 2010 significantly damaged the natural reefs and some artificial reefs. As we continue to add artificial reefs, we can overcome those negative impacts on our fishery.
Be sure to check out all the fishing opportunities as the season opens: Grand Lagoon offers head-boats with 5-hr., 6-hr., and 10-hour trips in March, April, and May, and a more robust schedule when Red Snapper season opens June 1. Reserve early! www.CaptAndersonsMarina.com.
Charter boats and Guide boats offer great fishing with personal service year-round. Here at Capt. Anderson's Marina we boast of the best captains in all of NW Florida – if the fish are hungry, you'll catch them!
The Event Center just had its first-ever Bridal Show and what a success! Over 225 brides came ready to book the Captain's Quarters and wedding cake vendors, pro-photographers, caterers, and more. This beautiful venue has become the best in the area, offering an amazing second-floor view of Grand Lagoon. The Event Center at Capt. Anderson Marina offers spaces for groups of 25 to 300. Take a virtual tour at www.CaptainAndersonsEventCenter.com/venues.
Fisherman's Walk and Capt. Max's Bar & Grille will open at the marina in mid-March. Breakfast, lunch, ice cream, and souvenirs are available, as is a nice, covered area to hook up to free Wi-fi and watch the fishermen (and women) come in with their catches.
In addition to all this, Shell Island/Dolphin Cruises will begin on March 1. All aboard for a peaceful, narrated cruise down Grand Lagoon, into St. Andrew Bay, and on to Shell Island for an hour-long shell collecting stop. Watch our crew cast a net for sea life and learn about the different species they find. Then off to The Pass to find dolphins – always a treat!
Capt. Anderson's Marina…Where the fish are always biting and the kids are always smiling.