By Pam Anderson
With that special day set aside for sweethearts, there are plenty of opportunities to make her day special. There are restaurants galore for lunch and dinner; in the Grand Lagoon area we have some of the best local seafood, Italian cuisine, Cajun cuisine, Mexican cuisine, and more, all family-owned and operated.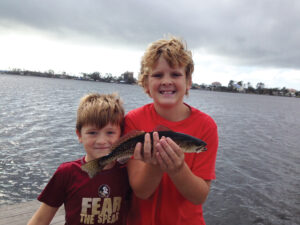 But Grand Lagoon also boats. The Capt. Anderson III will be offering its annual Sweetheart Dolphin Cruises on February 14. They have 3 trips to offer – make reservations soon! This is the first opportunity since the fall to get out on the water and watch for dolphins, check out the osprey nest, and enjoy the great scenery. The regularly scheduled Shell Island and Dolphin Cruises will resume March 1.
Grand Lagoon Charter boats and Guide Boats are still open for business for any of you folks who would like to wet a line and enjoy the beauty of St. Andrew Bay and the Gulf of Mexico. Among the keepers this month are Redfish (Red Drum), Spotted Sea Trout, and Red Grouper. Lots of other fish are available, but these are three of the most popular this time of year. Gray Triggerfish will reopen on March 1, just in time for the head-boats to get their season started.
We all look forward to Red Snapper season opening June 1. Be sure to make your reservations early. Trips are booking up quickly, especially for that first week.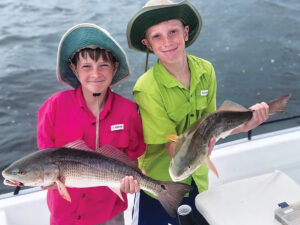 Ladies, while you may be the recipient of some very special Valentine's gifts, fishing trips are always a winner for the guys… just saying…
Fisherman's Walk, new in 2022 at Capt. Anderson's Marina, is expanding to include even more family-friendly venues than before. The new venues are set to open March 1. Stop in and have a specialty coffee, or watch the kids enjoy playing in the safe plaza area. Capt. Max's Bar & Grille is right in the middle of it all!
Weddings, retirement parties, graduation parties, and corporate functions are booking quickly in the Event Center. You can check it out with our virtual tour at captainandersonseventcenter.com. Schools & churches that are planning special events will find the Event Center an excellent option, too. The Event Center overlooks the beautiful Grand Lagoon from its vantage point on the second floor, and the view couldn't be better!
When planning your fishing trip, remember Capt. Anderson's Marina… home to 3 large head-boats, 38 private charter and guide boats, and 4 dive boats… and Shell Island/Dolphin Cruises. Find us at www.captandersonsmarina.com.
Capt. Anderson's Marina…Where the fish are always biting and the kids are always smiling.