By Paul Bonnette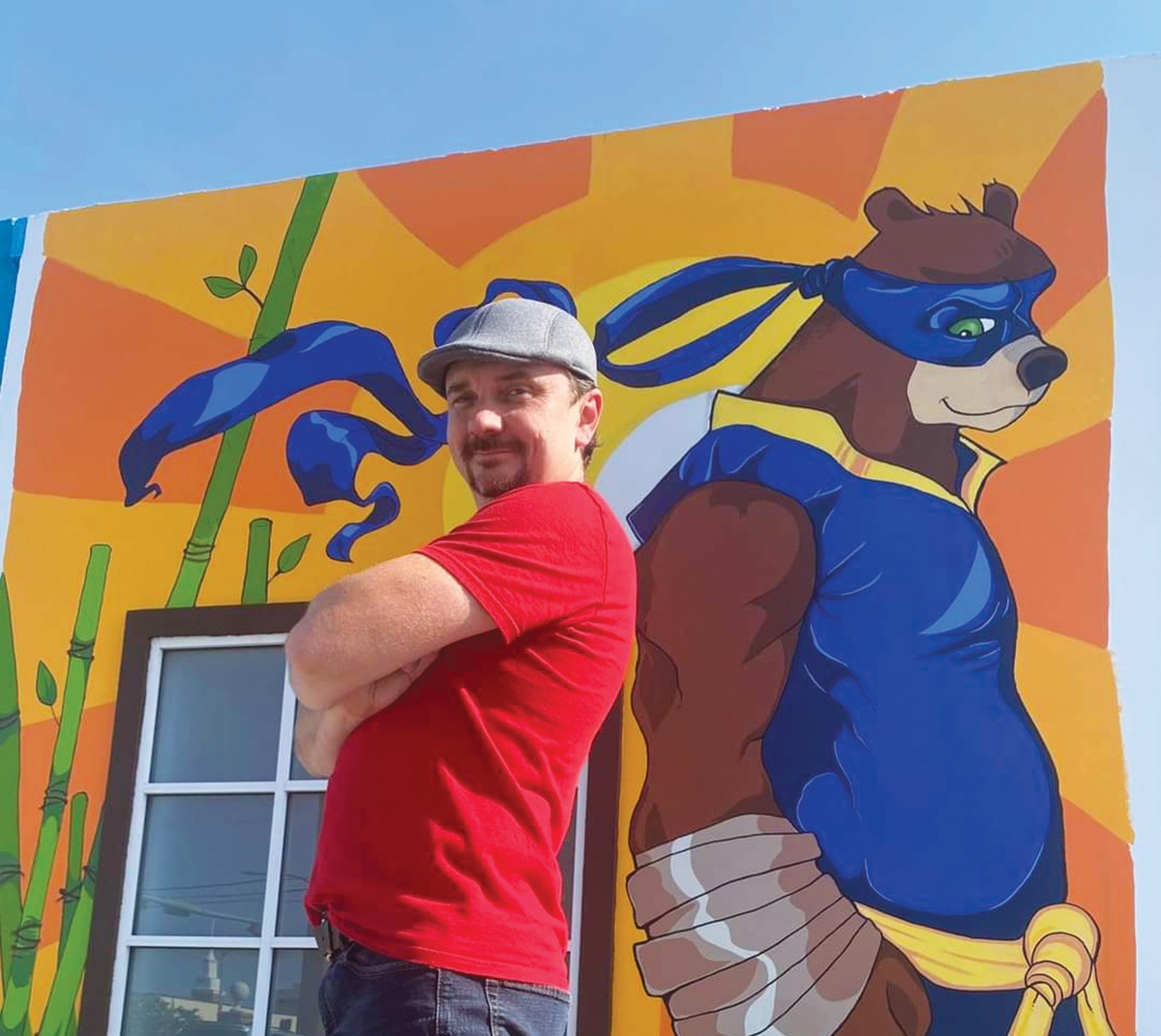 There is no denying that Downtown Panama City is in the midst of a revitalization. Everywhere you turn there are signs of fresh life, from colorful murals and crosswalk art to new businesses. One of the key community leaders responsible for this rebirth is the Executive Director of Bay Arts Alliance, Jayson Kretzer.
Known for his involvement with The Panama City Center for the Arts, the National Cartoonist Society – as well as his role as the founder and president of Panama City Creative Con – Jayson Kretzer is on a mission to bring art to life downtown.
For Kretzer, his love of the arts started early on. "My grandfather and father would talk about Sunday comic strips when I was a kid and it all sounded so cool to me, I just wanted to be part of their conversation. So I started reading comic strips at a very young age and that eventually lead me to want to create them. I just never quit drawing and never lost the bug," he explained.
As a local artist and longtime Panama City resident, Kretzer saw an opportunity to help create more art in Bay County and founded Creative Con in 2010, a convention dedicated to celebrating and exploring creativity. Creative Con offered guests a chance to not only meet celebrity artists and actors but learn from them as well. It was an experience that helped him with his role as Director of the Panama City Center for the Arts and Bay Arts Alliance. "Creative Con was this opportunity to team up with a group of creatives to build something for creatives that we watched grow over nine years," said Kretzer. After Hurricane Michael, he was forced to change direction with an emphasis on rebuilding. "To be able to step into this downtown resurgence and help revitalize the arts has been very rewarding for me. I've enjoyed the collaboration with the other artists and business owners in this town; we have some amazing talent in this area, and it inspires me."
A very visible way to display the creativity and resilience of the area was with murals showcasing the work of local artists throughout Downtown Panama City.
"So obviously after the storm, there was a need to beautify," Kretzer explained. At this point, there were a lot of things that were run down or destroyed. "We decided to help add colorful murals as everything was being rebuilt." The first project was the butterfly mural by Cameron Moberg at the Center for the Arts; this vibrant work hinted at the metamorphosis already taking place downtown. Over time, more local artists got involved in this mural project, adding color to the historic downtown arts district – now they have more than a dozen murals. "We now have a historic downtown arts district we can be proud of and it's getting better all the time," Kretzer reflected. Thanks to a great collaboration with the City of Panama City and the Downtown Improvement Board, along with Kretzer and his team at Bay Arts Alliance, the new Crosswalk Art Project looks to be just as successful. According to Kretzer, collaboration is vital. "When you work together, you get the best of everyone's ideas and solutions. When the whole community is pushing in on that same vision, it allows for something that's really special."
For Jayson Kretzer, Downtown Panama City was a blank canvas and he is grateful that it's being painted by all the right people, whether they're business owners, community leaders, residents who want to make a difference, or local artists. "Nothing is ever going to grow if all we do is the minimum. You've probably heard that the grass is greener where you water and fertilize it. Well, the people who are down here watering and fertilizing have made a huge difference. I'm just thankful to have been here during this time and to be a small piece of the giant awesome puzzle."