By Paul Bonnette
Comedian. Actor. Writer. Teacher. Director. Jason Hedden is well known in Bay County for wearing many hats. Having been involved in the performing arts for over three decades, Hedden is no stranger to the stage and he plans on making sure comedy comes to the coast.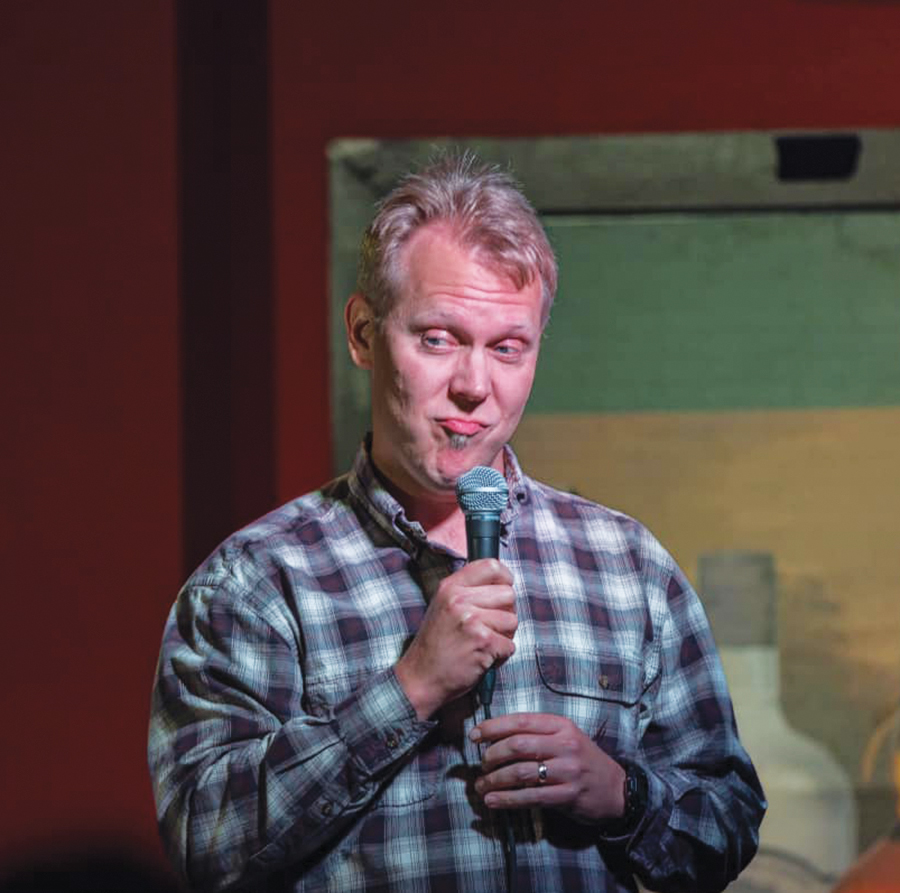 You may know him as the Director of Recruitment and Community Relations at Gulf Coast State College (GCSC) or as the former Chair of the Visual and Performing Arts, but Hedden is also the co-founder of Panama City Comedy.
One thing that is undeniable is that Jason Hedden is intent on establishing Panama City as the place to be on the Gulf Coast for comedy and performing arts.
For Hedden, his love for performing started at a young age.
"I had a seventh grade teacher who took all the wannabe class clowns and put them in this class called drama. We spent a couple of years re-enacting the original Saturday Night Live sketches and that's when I was hooked. That's when I was bitten by the bug as they say," remembers Hedden.
He's always been involved in theatre and drama club, majoring in theatre at GCSC and studying theatre performance at the University of South Florida. He worked professionally in Seattle for a few years before returning to school for a Master's Degree in acting at Ohio State University. He then spent two years teaching theatre at a high school in California before a job opened up in 2008 at GCSC.
"I came back to work in the same department that I had been a student in and that was a pretty cool full circle moment for me because I was able to provide the types of opportunities that I was given to the next generation a decade later," says Hedden.
After spending fourteen years as a Theatre Professor and Chair of the Visual and Performing Arts Division, Hedden recently accepted a position as Executive Director of Recruitment and Community Relations that allows him to spend more time helping prospective students at Gulf Coast State College.
"So the way I describe my role is that I used to brag about Visual and Performing Arts and now I get to brag about the whole college," he explains.
When he isn't speaking to potential students about how they can "Start here and Go Anywhere" at GCSC, you can find him on stage as a stand up comedian as well as the co-founder of Panama City Comedy.
Though speaking to groups is something Hedden thoroughly enjoys, it's the thrill of being on stage practicing comedy that offers him the real challenge.
"Stand up comedy forces you to be in the present moment," says Hedden. "Comedy when it's working the best is this beautiful dance between the audience and the performer and it's happening in real time, not unlike theatre. When it works, it's like this mini one person show and I'm the writer, the director and the costumer."
Although comedy clubs are numerous in other cities, Panama City does not have a dedicated comedy club, so Panama City Comedy has partnered with local venues to bring comedy to Bay County. According to Hedden, the popularity has only grown in recent years.
"In June of 2018, I started getting involved pretty heavily and I've been pretty much doing comedy every week since then. I perform and I run Panama City Comedy which produces shows all over the Panhandle. We produce four to six shows a month, plus a weekly open mic. We are starting to bring in bigger names including Henry Cho, who is coming back in June as well as Rory Scovel April 5."
Whether he is on stage, performing, or speaking to crowds of prospective students, one thing is sure: Jason Hedden has no intention of slowing down until Panama City is well established as the place to be for the performing arts.