Your dream is coming true…you're opening or renovating your own business. You want everything perfect from the floors to the ceiling. But where do you start to get the look, durability, and design that you crave?
There's a lot to consider. How many customers do you expect on a yearly basis? How frequently do you want to maintain or clean your business floors? Will you be moving equipment, racks, or displays across your floors? Will other heavy items be sitting on your floors for long periods of time? What type of style or design are you trying to achieve and last, but not least, what is your budget?
We know it can be confusing, so we are highlighting a few great commercial flooring options for you to consider when opening or renovating your commercial space. Here we go:
Porcelain Tile—This is a great option for lobbies, office spaces, commercial kitchens and bathrooms, restaurants and bars, schools, and many other locations. Porcelain tile is easy to clean and keep clean, it's also water and stain-resistant, and virtually scratch-proof. If you are afraid of someone slipping or falling, there are slip-resistant options to ensure your customer's safety. In addition, there are beautiful color options, so your imagination is your only limitation.
Vinyl Flooring—There's a reason that Luxury Vinyl Plank (LVP) is experiencing a boom in popularity, it looks great and can keep looking great for years. Commercial grade LVP is resilient but also offers cushioning for walking or standing, but if you drop something, chances are it won't break like porcelain tile. It's also very scratch, water, and stain-resistant. Installation is easy and the floors come with great warranties if installed properly. It's easy to clean and maintain and the best part is that the styles and colors are limitless so you can individualize your space just the way that you want it.
Carpet Tiles—Carpet is an oldie but goodie. It's even better when it's carpet tiles. Commercial carpet tiles have a lower nap, so office chairs roll easily. Carpet helps keep the noise down if you are in a large open space and it is soft and offers cushion to walk on. It's non-slip as well so it's great for all types of customers. There are a multitude of colors and patterns to choose from as well. The great thing about carpet tiles is that if one tile gets stained, you can take it up and put down another without replacing an entire room. It's virtually seamless too so you can't tell that it's a tile as it looks very cohesive.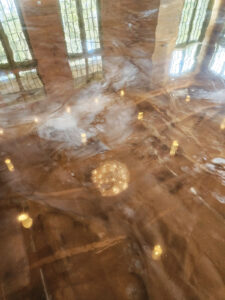 Epoxy and Polished Concrete—Polished concrete is also an oldie but goodie, and epoxy is growing in popularity. Both flooring options are very hard and durable. They are easy to clean and maintain and can be customized. They can be made more non-slip if that is a concern. These floors can last a lifetime and overall may cost more upfront, but ultimately have a lower lifetime cost than other options—simply because they are that durable and you won't have to change them. There are different types of stains and colors that can make these floors both beautiful and unique. Again, you are only limited by your imagination when choosing this option.
There's a lot to consider when deciding on the right material for your commercial space, but no matter what material or advice you may need in choosing the right floor, Flooring Depot of Panama City can help you find the best option that fits your needs and budget. We have a wide variety of products and manufacturers in a variety of colors, sizes, designs, and styles so that you can find the perfect fit for your residential or commercial property. If you are in a hurry, we offer in-stock products as well. Give us a call at (850) 785-2216 or visit one of our two locations—one in town and one at the beach.