By Jack Smith
While all of our featured restaurants offer a plethora of homemade soups and salads, I'd like to focus on two of my favorites, Caesar salad and she-crab soup. Most food-historians believe the Caesar salad was invented in the 1920s by an Italian immigrant named Caesar Cardini, a restaurateur with restaurants in both Mexico and the United States. On July 4, 1924, Cardini ran out of supplies at his restaurant, Caesar's, in Tijuana, Mexico (where Americans flocked to avoid prohibition restrictions). Improvising with what he had left on hand, the first Caesar salad was tossed (or so the story goes).
My all-time favorite soup is she-crab, a true southern delicacy. History tells us that she-crab soup was first made in Charleston, South Carolina, in the 1920s at The Rutledge house. There the butler, William Deas, was asked to come up with something special for visiting President William Howard Taft. We are lucky to live in a southern town that offers several versions. My favorite is found at…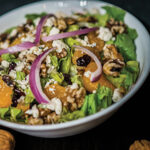 The Wicked Wheel
10025 Hutchison Boulevard, PCB | (850) 588-7947
thewickedwheel.com
The Wicked Wheel's Mandarin Walnut Salad is a refreshing choice any time of the year. Think romaine lettuce served with Mandarin oranges, walnuts, red onions, tomatoes, bleu cheese crumbles, and cranraisins served with raspberry walnut vinaigrette on the side. This salad is full of flavor with every bite.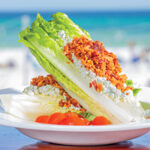 Schooners
5121 Gulf Drive, PCB | (850) 235-3555
schooners.com
The wedge with a view! A whole heart of romaine lettuce, bacon, blue cheese crumbles and blue cheese dressing sets this salad apart. Try it with our New Orleans style Seafood Gumbo!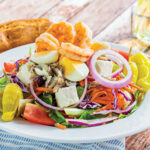 Capt. Anderson's Restaurant
5551 N Lagoon Drive, PCB | (850) 234-2225
captandersons.com
Try our Johnny's Special Greek Salad. Fresh crab meat and Gulf shrimp, iceberg lettuce and tomato wedges with Greek ripe olives, Salonika peppers, feta cheese and our famous Greek dressing. Crisp and refreshing!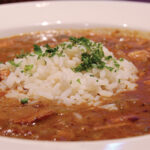 Boon Docks
14854 Bay View Circle, PCB | (850) 230-0005
boondocksfl.com
Like everything at Boon Docks, the Spicy Gumbo is fantastic. Gumbo appears to have started in Southern Louisiana about 1719 and was a combination of several cultures: African, French and Creole. The name comes from a West African word for okra, which suggests its origins may go back even further. Whatever the history, today's version at Boon Docks is as good as it gets. When you go, tell Hilary that Jack says hello.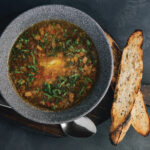 American Charlie
473 Richard Jackson Blvd., PCB | (850) 238-8340
americancharlie.com
American Charlie Grill & Tavern is an All-American eatery located at The Shoppes at Edgewater. From the local team that brought you Firefly PCB, On The Fly, and more, this dining experience is unlike any other, featuring favorite classic dishes that have become staples in our country for over a century. For the soup and salad lover, choose from ten delicious homemade soups and salads made fresh daily.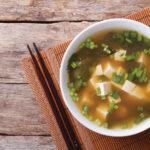 Hibachi Express & Sushi
9956 Hutchison Blvd. #500, PCB | ((850) 775-1480
www.hibachiexpresssushifl.com
We offer authentic and delicious-tasting Japanese cuisine. A convenient location and affordable prices make our restaurant a natural choice for dine-in or take-out meals. Our restaurant is known for its variety in taste and high-quality fresh ingredients. Come and experience our friendly atmosphere and excellent service. You can also order online for pickup or delivery.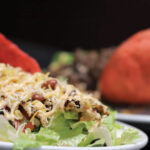 Señor Frogs
15005 Front Beach Road, PCB
senorfrogs.com/panama-city-beach
Come for the food, stay for the fun. Our fiesta taco salad is a party in your mouth with a crispy flour tortilla, beans, rice, lettuce, pico de gallo, guacamole, queso fresco, with chipotle dressing and your choice of chicken, shrimp, arrachera or carne asada. Or try our seafood gumbo with shrimp, scallops, crawfish, crab, andouille sausage, okra and steamed rice.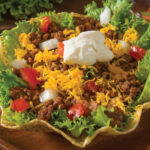 San Marcos Mexican Grill Pier Park
101 Bluefish Drive, Suite 105, PCB | (850) 708-3097
www.sanmarcosmexicangrillpierpark.com
San Marcos Mexican Grill is a family-owned and -operated Mexican restaurant. The family is committed to serving authentic Mexican and Tex-Mex fare including handmade corn tortillas and homemade, tableside-prepared guacamole! Pair the delicious dishes with a range of margaritas, or a draft or bottled beer. You can even have your furry friends join you on the pet-friendly patio! Any day is a good day to chill at the grill.