By Jack Smith
Where's the beef? Although we live in a seafood destination, almost every restaurant offers some sort of steak or beef dish. Whether it's a "surf & turf" dish, a sizzling ribeye, a porterhouse, or my favorite, a country fried steak, PCB restaurants have some delicious steak and beef options to choose from.
Personally, I believe that the best cuts of meat come from Black Angus, although I suppose a case could be made for Kobe beef as well. In the end, perhaps these questions were best answered in the 1984 Wendy's commercial starring unknown actress Clara Peller when she famously asked "Where's the beef?"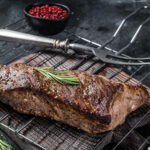 Ambrosia
75 Origins Main Street, Watersound | (850) 909-0100
www.ambrosia30a.com
Ambrosia Prime Seafood and Steaks is your newest destination for the freshest seafood and best cut of steaks. Conveniently located near 30A, Ambrosia offers a variety of dining experiences paired with the highest level of hospitality in the industry.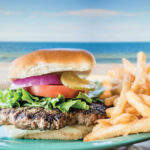 Schooners
5121 Gulf Drive, PCB | (850) 235-3555
schooners.com
The Schooners Burger is 10 oz. of choice Angus Beef grilled to perfection. Topped with all your favorite fixin's and served with a view… a legendary burger on the Gulf Coast.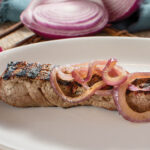 Capt. Anderson's Restaurant
5551 N Lagoon Drive, PCB | (850) 234-2225
captandersons.com
Capt. Anderson's signature steak… the Grilled Churrasco! A perfectly seasoned Nicaraguan Cut Tenderloin with grilled Bermuda Onions. Deliciously paired with a bottle of Penfolds, 389, Cabernet Shiraz.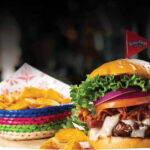 Señor Frogs
15005 Front Beach Road, PCB
senorfrogs.com/panama-city-beach
We're a restaurant where the perfect mix of fun and flavor converge, just like the sand and the aquamarine sea. Have a great time with your family and friends while enjoying delicious dishes and the iconic Señor Frog's yards. Try our delicious beach burger: 7 oz. Black Angus beef patty served on a brioche bun with choice of side. Add cheese or bacon and make it your own personalized burger heaven.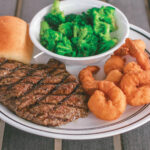 Boon Docks
14854 Bay View Circle, PCB | (850) 230-0005
boondocksfl.com
Relax on the docks while you wait at Fish Tales. Take in the history of our 1941 West Bay landmark, the old fish house, the Buchanan home, and the old bait store, all now part of Boon Docks Restaurant. Look out over the water as you sip on something cold and refreshing and watch the barges go by, the occasional dolphin swim by, even an alligator or two, and our mascots, the ducks and geese, who come in for their favorite – hushpuppies.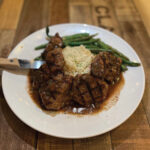 American Charlie
473 Richard Jackson Blvd., PCB | (850) 238-8340
americancharlie.com
American Charlie Grill & Tavern is an All-American eatery located at The Shoppes at Edgewater from the local team that brought you Firefly. Come in and try our Kentucky Bourbon Steak – 10 oz. tender medallions, grilled and topped with Kentucky bourbon cremini mushroom glaze.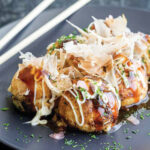 Hibachi Express & Sushi
9956 Hutchison Blvd. #500, PCB | ((850) 775-1480
www.hibachiexpresssushifl.com
We offer authentic and delicious tasting Japanese cuisine. A convenient location and affordable prices make our restaurant a natural choice for dine-in or take-out meals. Our restaurant is known for its variety in taste and high quality fresh ingredients. Come and experience our friendly atmosphere and excellent service. You can also order online for pickup or delivery.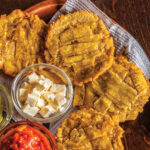 Jaa's Kitchen
9956 Hutchison Blvd, PCB | (850) 775-4493
jaas-kitchen.business.site
If you have never come across Caribbean cuisine, you should reserve a table now and sample the menu at Jaa's Kitchen. You will find perfectly cooked chicken, pork, rice and peas, fried plantains and many other delicious items.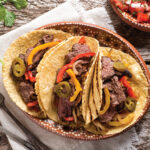 San Marcos Mexican Grill Pier Park
101 Bluefish Drive, Suite 105, PCB | (850) 708-3097
www.sanmarcosmexicangrillpierpark.com
San Marcos Mexican Grill is a family-owned and -operated Mexican restaurant. The family is committed to serving authentic Mexican and Tex-Mex fare including handmade corn tortillas and homemade, tableside-prepared guacamole! Pair the delicious dishes with a range of margaritas, or a draft or bottled beer. You can even have your furry friends join you on the pet-friendly patio! Any day is a good day to chill at the grill.