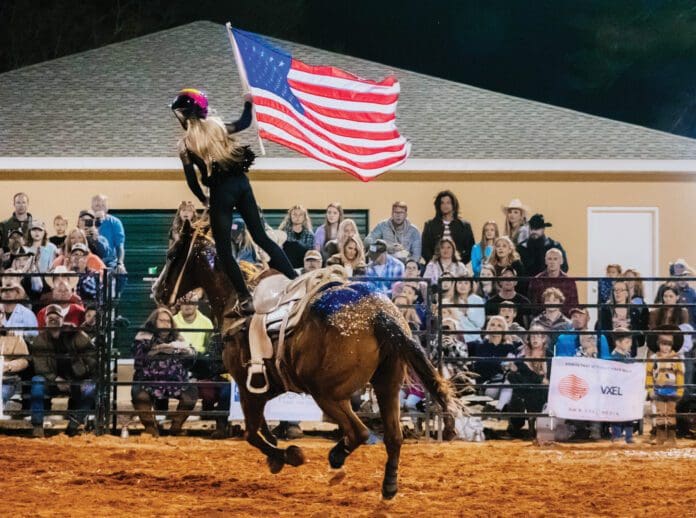 You Can Help Through the Westonwood Ranch Rodeo
By Lori Leath Smith
A lot of families with a young child with Autism are thinking, "What if something happens to me? I just want to know that my child is safe, and someone will love them just as much as I do."
More than five years ago, Lindy Wood had a dream – a dream of a program geared toward older youth and young adults with autism and special needs developmental differences. She wanted to be able to offer more for her son, Weston, diagnosed with Autism at age 2, and other teens and young adults affected by Autism. So, with a hope to create opportunities to develop and cultivate independent, life-changing skills, surrounded with love, Lindy and her husband, founders of Westonwood Ranch, purchased a 40-acre tract of land in Freeport to begin a farm and, eventually, birth a new local non-profit.
Westonwood Ranch is designed to fill in the service gaps where other transitional programs fall short. "But it's also about advocacy for this population and breaking barriers," said Kelly Thompson, Westonwood Ranch Executive Director. "Due to the individual's diagnosis, society already puts labels and barriers to their abilities and Westonwood wants to break down those barriers."
In just a short time, Westonwood Ranch has grown into providing programs focused on teaching life and vocational skills for adolescents and young adults in our area with varying developmental disorders differences. The farm offers a comprehensive, holistic learning program for full-time students, ages 12 through adult, that focuses on providing functional learning opportunities. Through hands-on ranch operations, students learn skills in aquaponic farming, animal husbandry, kitchen operations, creative art exploration and fitness classes. The overall goal is for these young individuals and adults with developmental differences to learn to transition into the next phase of their lives.
Part of Lindy's dream was for the farm to be self-sustaining with a revenue stream to help support the non-profit. Today, it IS a working farm with several social enterprises that not only serve as hands-on, job skill training and employment opportunities, but contribute back into the program.
"There are two social enterprises currently," said Kelly. "There is a 3,500-sq.-ft. commercial greenhouse where we grow lettuce and sell to local businesses," she said. "And there is the Westonwood Ranch Brew Chews – our signature dog biscuit company. This company got off the ground last fall and we are currently selling wholesale to local businesses, but plan to open up online sales to the public soon." Odd Pelican Brewing Co. in Freeport donates the grains. "Participants help with all aspects of business, from baking to packaging and delivering," she said, "and all sales go back into the company to allow us to hire more individuals with developmental differences."
In the fall of 2020, Westonwood received a grant from Impact 100 of Northwest Florida to start a job training program and launched Program LIFTOFF in April 2021. It is a job skills training grant with an end goal of gainful paid employment at Westonwood Ranch. Program applicants must be age 18 or over with developmental differences and must want to obtain employment at program completion. "This is a 4-phase program with a focus on soft skill acquisition as well as social skills," she said. There are 15 in the program currently with three additional students joining in the spring. "We just hired the first four participants within our social enterprises who will receive their first paycheck at the end of the month. They've made it through the LIFTOFF phases and have shown progress through onboard training."
"Society is the one that puts limits on them," said Kelly. "We want to teach society that with the right resources and right training, they are capable of so much more and should have the same workforce opportunities as their neurotypical counterparts."
Westonwood Ranch is laying the groundwork to hopefully be a model to other companies and communities about how to hire individuals with developmental differences. "We want our local community and society as a whole to not look past these individuals just because they may be different. Our motto is "Embrace Unique Abilities" and we are here to challenge our community to do just that through our grass roots movement." Kelly noted some big businesses ARE starting to do these things and her hope is that it will trickle down into our communities.
How can you help? One way is to dust off your boots and participate as a sponsor or attend the 4th Annual Westonwood Ranch Professional Rodeo at the Freeport Sports Complex March 24-25 where some of the nation's top cowgirls and cowboys will be competing in bareback riding, calf roping, saddle bronc riding, steer wrestling, breakaway roping, barrel racing, team roping and bull riding. Westonwood Ranch partners with the PCA and Bo Campbell Rodeo Productions, who help produce and source the entertainment and riders. "Last year was a record-breaking year," said Kelly. "We sold out both nights with more than 2,200 people coming out each night. And we were able to raise $175,000, which is huge in contrast to the past couple of years." The rodeo is an important fund-raising event that supports Westonwood Ranch's mission and programs.
This year's rodeo gates open at 6 p.m., with rodeo events starting at 7:30 each night and live pre-rodeo entertainment by David Gautreau, food by Mozey's Mobile Cuisine, children's inflatable play area and more! To become a sponsor, email Kelly@westonwood.org, call (850) 880-2220 or visit www.westonwood.org.
So, what's next for Westonwood Ranch? Kelly said they plan to embark on a capital campaign for the next phase of Westonwood – a residential community where individuals would live and work. "We plan for these 40-acres to be developed into a holistic, supportive residential community where individuals are loved and cared for as long as they are with us," she said. "We hope to continue to grow and be a resource to individuals with developmental differences as they age into adulthood and a residential community is the next step to bridging the gap for these individuals."