The Bay County Public Library Foundation is organizing a Book Drive May 1 –19 to restock the Foundation's Free Library on Wheels (FLOW) and FLOW Book Boxes. The Book Drive is open to community members to donate new or gently used children's book titles that would be appropriate for preschool age to 8th grade students at any of the drop-off locations. These titles will be collected and then distributed free of charge to Bay County children throughout the upcoming year.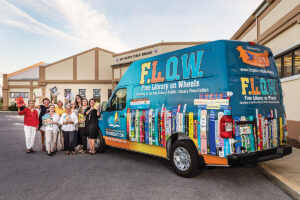 The Foundation's primary goal is to help encourage the love of reading and promote literacy, one book at a time. Popularly requested titles from the school-age students include Dog Man series by Dav Pilkey, Diary of a Wimpy Kid series by Jeff Kinney, The Bad Guys series by Aaron Blabey, New Baby Sitters Club graphic novels and chapter books, and anything by Raina Telgemeier. Picture books are always a great addition for early readers and family read alouds!
Book Drive Drop-Off Locations:
• Bay County Public Library, 898 W. 11th Street, Panama City
• The Law Offices of Sam K. Zawahry, 227 Harrison Avenue, Panama City
• Little Mustard Seed, 437 Harrison Avenue, Panama City
• Panama City Beach Public Library, 12500 Hutchison Blvd, Panama City Beach
• Parker Public Library, 4710 2nd Street, Parker
• St. Andrews Publishing Museum, 1134 Beck Avenue, Panama City
The Bay County Public Library Foundation's mission is to promote literacy and provide cultural enrichment that enhances the Bay County libraries and strengthen the community. FLOW was made possible through a generous St. Joe Community Foundation Grant and has been actively distributing children's books since 2019. FLOW book boxes are located at 15 childcare centers, Bay County Health Department's Free Dental Bus/Clinic, and PanCare Health Clinic. Eleven Little Free Libraries have been installed and maintained throughout Bay County. For more information, visit bcplfoundation.org or email theflowforbay@gmail.com.