By Aubrie Rounds, Marketing Coordinator, Flooring Depot of Panama City
The kitchen is the heart of the home. It's a special place where many spend hours crafting beautiful meals and gathering with family. It's a place where memories are made, and to many, it's the most important focus when searching for the perfect home.
When designing your perfect kitchen, it's important that your space feels functional, beautiful, and enjoyable. A great kitchen starts with great cabinets, so what factors should you consider when picking your cabinetry?
Your cabinets aren't going to change frequently. So, choose something that you can live with—for a long time. Solid wood boxes will give you the function and longevity that you will need in a highly-used kitchen. You should also consider the style of doors your cabinets will have. The doors of your cabinets can alter the mood of the entire kitchen changing it from casual to elegant to modern, so it's crucial to consider the overall aesthetic you want your kitchen to have when picking out cabinet doors.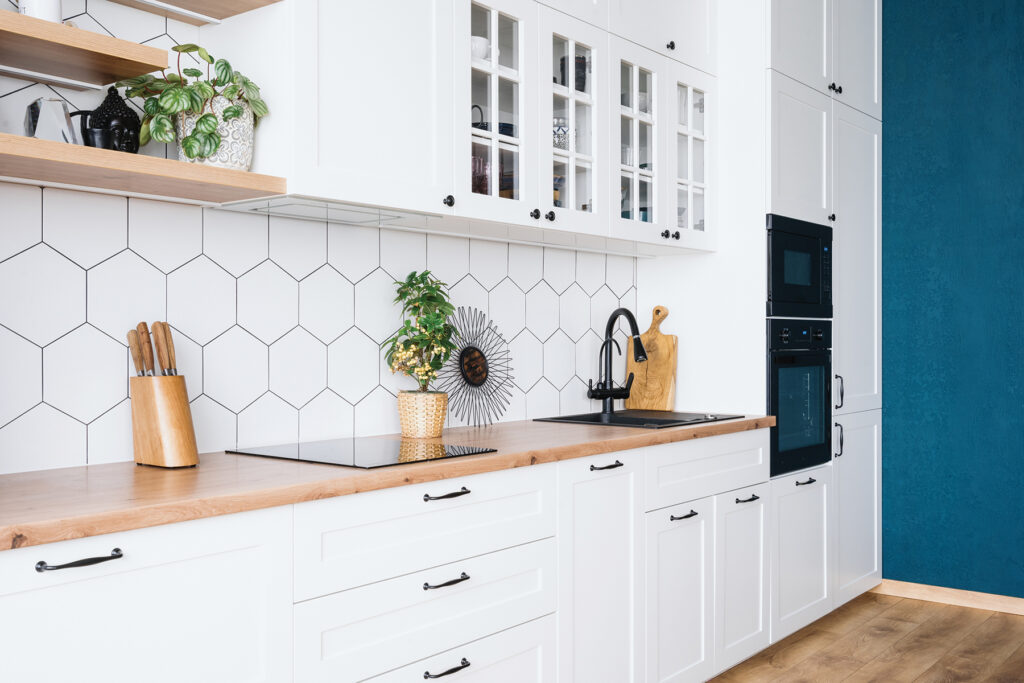 Styles of cabinet doors include shaker, contemporary, flat panel, glass front, and traditional, just to name a few.
Shaker-style cabinets are a popular choice right now for their classic but modern design and are a great option for those looking for a cozy farmhouse feel in their kitchen. It's also a classic design for coastal kitchens so it's easy to see their appeal here in Florida. Flat panel cabinetry, on the other hand, provides a sleek, mid-century modern feel.
Looking to spice up your kitchen? Mixing cabinet styles is also a fun way to do that. A mix of open shelving and shaker cabinets, or even mixing rustic and contemporary styles can help your kitchen stand out from other cookie-cutter kitchens. If you're a little indecisive about the style of your cabinets, try mixing styles to get the best of both worlds!
The finish of your cabinets can also add to the overall mood of your kitchen. Lighter cabinets are great for a traditional or coastal style. It will also make the space look brighter and more open. Darker cabinetry is excellent for creating a warm, cozy environment and is a wonderful contrast to lighter floors and walls. Colored cabinetry is also becoming more popular and can create a dynamic look for your kitchen. Cabinet style and color are more personal than you think, so make sure to give it plenty of consideration when designing your kitchen.
If you think you're done when you've chosen the style of doors, think again. Your cabinetry hardware is also a great way to individualize your personal style in your kitchen. Cabinet hardware is usually an afterthought when designing a kitchen, but the right hardware will create a stunning visual impact as well as promote functionality. From handle pulls to knobs to cremone bolts, there are a variety of styles to dress up your cabinets.
Textured and curved silhouettes tend to work better with more traditional style kitchens, while those with clean edges and a sleek profile tend to lean more modern. Just like mixing cabinet styles, mixing hardware styles can be a way to make your cabinets stand out. Don't be afraid to mix metals and style, as "breaking the rules" can reflect your personality and make your kitchen unique, just like you!
Function is another important factor to examine when choosing your cabinets. Your organizational style is an important factor in creating a functional kitchen personalized to you.
How much storage do you need? What appliances do you want more easily accessible than others? How many drawers do you need to accommodate your utensils? Do you have an antique glassware collection you would like to showcase? These questions will help you design a kitchen that works for your life and will keep you from getting frustrated in the kitchen.
If you're interested in designing and purchasing cabinets or if you have any questions about cabinets for your home, rental, or business, stop by one of our two Flooring Depot of Panama City locations. We would love to help you design your dream kitchen. Call us at (850) 785-2216 or visit our website at flooringdepotofpanama.com.