Bay County Tax Collector Chuck Perdue was recently sworn in as the 78th President of the Florida Tax Collectors, Inc., the state-wide Association of Florida's Tax Collectors. Perdue will have an opportunity to work with fellow tax collectors, state agency directors, and legislators on initiatives to improve systems and work processes for tax collectors to better serve Florida citizens.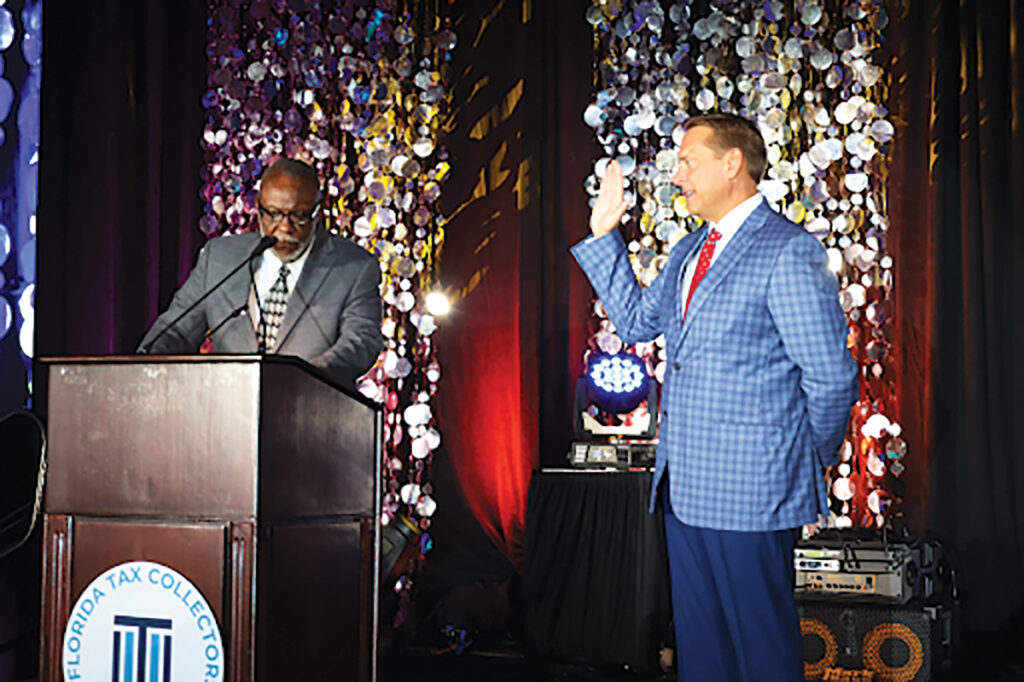 "I'm honored my colleagues have placed their trust in me to lead the organization this year. I have a talented board of directors and collectively we are passionate about the opportunities we have to improve relationships with state agencies and move forward with improvements to not only help our teams assisting the public, but to help the citizens we are here to serve," said Perdue.
Prior to his role as President, Perdue served the association as both Legislative Chairperson and most recently Treasurer. He looks forward to continuing the legacy of FTCA, Inc. in working on solutions to advance technology and increase customer convenience while still maintaining the security of issuing state credentials. Additionally, Perdue sees tax collector offices as a resource for protecting the customers they serve.
"Tax collector offices are a first visit for most new residents to obtain their driver license and establish residency as well as annual interactions with property owners and vehicle owners," said Perdue. "Our tax collector teams encounter people from all walks of life in our offices and a large cross-section of Florida residents annually. If our teams receive the proper training, we can assist law enforcement in identifying suspected victims of trafficking, elder abuse, and fraud. While our primary goal will always be to provide state and local services to our citizens, we also recognize the need to be alert and aware during our customer interactions."
In his role as president, Perdue will meet with tax collectors around the state to learn about the challenges they face in their offices. He will also travel to Tallahassee to meet with state agency directors from the Florida Department of Highway Safety and Motor Services, Florida Department of Revenue, Florida Department of Agriculture and Consumer Services, and Florida Wildlife Conservation Commission as well as state legislators.
"I would not be able to serve the FTCA as president if it weren't for the talented team of individuals I have leading the Bay County Team. Our leadership team comprised of the chief deputy, directors, and managers do a fantastic job managing the daily work and assisting our knowledgeable team in serving Bay County citizens. I'm grateful for their focus on service and problem-solving that allows me to serve my industry colleagues in this role this year."
To learn more about the Bay County Tax Collector's Office, visit BayTaxCollector.com or the Florida Tax Collectors, Inc. at floridataxcollectors.com.